Join us for a FREE festive day celebrating the past, present, and future of sharing the wonder of nature and science exploration in Santa Cruz County. You'll connect with today's local environmental leaders and partner organizations to learn and have fun just outside the Museum doors in Tyrrell Park.
Free admission to the Museum and outdoor activities
Explore historical collections
Create nature crafts
Play games
Food for sale from Areperia 831
Connect with partner organizations including:

Wilder Ranch State Park
Año Nuevo State Park
Women in Science and Engineering
Santa Cruz Public Libraries
Capitola Historical Museum
Pigeon Point Station
UCSC Earth and Planetary Science
Sempervirens Fund
Saturday, January 28, 2023
11 a.m. to 3 p.m.
Outside the Museum in Tyrrell Park
1305 E. Cliff Dr., Santa Cruz
Free! Drop-by any time.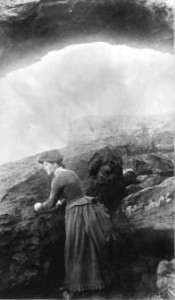 About Laura Hecox
The Santa Cruz Museum of Natural History's Laura Hecox Day celebrates the pioneering lighthouse keeper and naturalist Laura Hecox, whose personal collections founded Santa Cruz's first museum over 117 years ago. We honor her legacy by highlighting curiosity, amateur naturalists sharing their enthusiasm with others while spotlighting women and other under-represented groups working in science, and the inspiration found in helping connect our community with nature. Learn more about our Founder.
The Laura Hecox Naturalist Award
The Laura Hecox Naturalist Award honors Santa Cruz County community members who exemplify the Museum's mission to connect people with nature and science by helping others to appreciate, understand, and protect the natural world. Help us celebrate this year's recipient, Susan Blake, during a brief ceremony at 11 a.m. followed by a celebration and free Museum admission all day.