December's New Moon brings with it excellent low tides, perfect for exploring the intertidal zone and its many fascinating creatures. We are excited to have Allison Gong, Biology instructor at Cabrillo College, as our leader for this sunset stroll at Natural Bridges.
WHAT TO EXPECT
Wear sturdy footwear that you don't mind getting wet. Sneakers, knee-length rubber boots, and surf booties are all good options. No sandals, please! It may be windy and chilly, especially once the sun begins setting, so dress in layers and have a windproof outer layer.
Low tide is at 4:47 p.m., which is also just about sunset. It'll be such a good low tide that day that there will be plenty of time to explore before we hit peak low tide and sunset.
We will bring with us resources to aid in your exploration.
Tidepooling comes with inherent risks, and it is with this in mind that we will cancel in the event of rain (light drizzle is okay). If we do decide to cancel we will notify you by email that morning.
Please adhere to the latest local guidelines for COVID safety.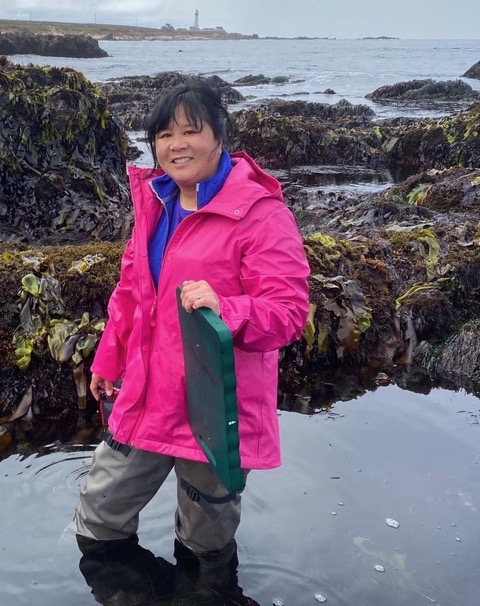 About our Walk Leader
Allison Gong is a Museum Member and born-and-raised-Californian who has been fascinated by living things for as long as she can remember. She studied biology as an undergraduate at UC Davis and a graduate student at UC Santa Cruz. She has not been able to tear herself away from the ocean since. The marine invertebrates are her first love, because they are weird and marvelous, and Allison considers herself fortunate to visit so many of them in their natural habitat. Allison spends as many minus tides as possible investigating and recording biodiversity in the rocky intertidal. She teaches biology at Cabrillo College in Aptos. In her spare time she practices her skills as a naturalist by poking around and recording observations in her nature journal.
Member Meet-Ups are small group get-togethers for Museum Members where we learn from each other while exploring Santa Cruz's diverse natural spaces. Not a Member? Join today for as little as $15 a year!