It's mushroom season! Join local fungiphiles at the Santa Cruz Museum of Natural History for a mushroom market just in time for the Holidays. Stock up on mushroom-themed gifts, explore a display of local mushroom species, and enjoy free family-friendly activities and community resources: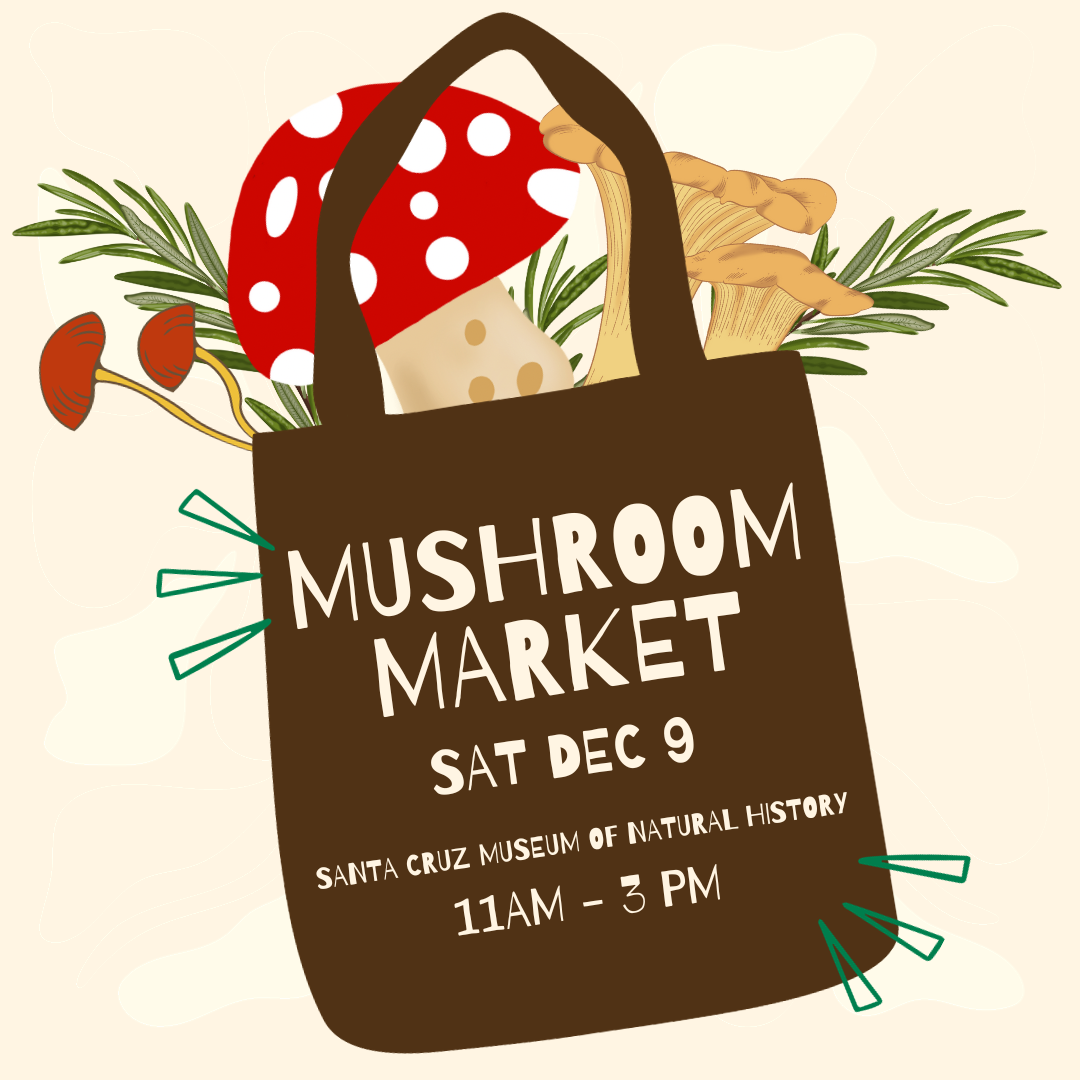 Free admission to the Museum all day!
Natural dye activity using local mushrooms
Game station
Mushroom ID station with the Fungus Federation of Santa Cruz (bring your mushrooms!)
Fungus forward food from Areperia 831
Mushroom products from Far West Fungi Santa Cruz
Local artists featuring mushroom pottery, stickers, woodworking, jewelry, including:

Alessandra Chapman | youth jewelry maker
Cat Gunderson | naturally dyed garments
The Fabrica | apparel
Ferd Bergholz | woodworker
Kelsey Sailors | pottery
Melissa Eugene | paintings and stickers
Sarah Brothers Bot | stickers
Saturday, December 9, 2023
11 a.m. to 3 p.m.
Tyrrell Park, 1305 E. Cliff Dr., Santa Cruz
Outside the Santa Cruz Museum of Natural History
Interested in contributing to our mushroom display?
Mushrooms may be dropped off at the Museum during operational hours the week of the event (Tuesday-Friday 11 a.m. to 4 p.m.). Enter through the main entrance and leave them with the staff person at the desk. The Museum is located at 1305 E. Cliff Dr., Santa Cruz.
Please follow our guidelines for ethical foraging before you collect any mushrooms.
Accessibility
Drop-by anytime 11 a.m. to 3 p.m. to join the festivities!
Admission to the Museum is free all day from 10 a.m. to 5 p.m.
Parking is free throughout the neighborhood and bike parking is available at the corner of Pilkington Ave. and E. Cliff Dr. Biking, walking, or carpooling are all recommended.
Restrooms and water fountains are available inside the Museum.
Activities will be on somewhat lumpy grass.