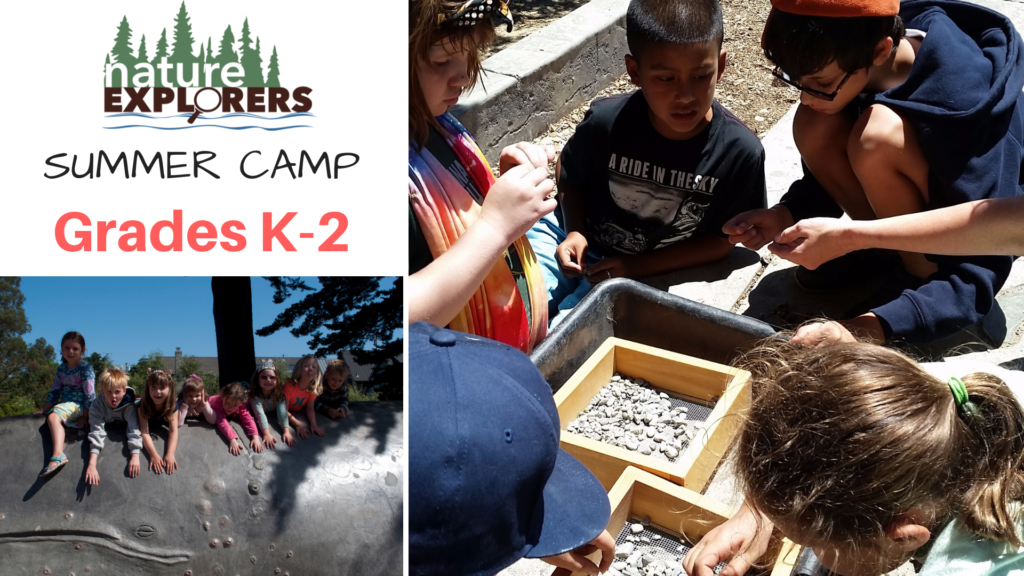 Can You Dig It?
Camps for kids entering grades K-2 (5-7 years old) in Fall 2019.
Enrollment for both sessions is now closed. Space is still available for scholarship applicants. 
Contact education@santacruzmuseum.org to be added to a waitlist.
Scholarships Available: Apply HERE – Space is still available for scholarship applicants.
---
Times: Drop-off 8:30 – 9 am | Pick-up 3 – 3:30 pm
Prices (includes materials and daily snacks): $275 non-members | $250 Museum members (Family-level memberships and higher) | Siblings get $20 off
Ratio: 15 : 2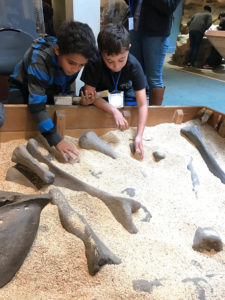 The Santa Cruz Museum of Natural History is proud to present a camp all about rocks, stones, and fossils! Join us as we explore the soils and sands of Santa Cruz, and discover the buried mysteries they hold. Spend five days immersed in nature, unearthing fossils, studying ancient artifacts, and exploring the many things you can learn from digging!
Our experienced staff will promote meaningful experiences in nature and positive social interactions as we set out on exploratory expeditions. Each day will involve outdoor nature exploration, hands on learning, and related games and crafts. We will study the differences between sands and rocks at Seabright Beach, forage for fossils, and experience hands-on how the indigenous people of Santa Cruz survived here for thousands of years. The week will lead up to an Open House to showcase all the interesting discoveries made at camp. Join us to build connections to nature and stewardship for our future!
Kids who participate in the Can You Dig It? camp will leave with a sense of wonder and excitement for a wide world of rocks and fossils. If kids have been to camp before, they will get a chance to try a few of their favorite activities again while learning and doing new things as well! They will be proud protectors of Santa Cruz's natural treasures, ready to share their discoveries with their friends and family. Each of the five days will focus on a different theme that will guide a variety of art projects, science investigations, explorations, and games. "Leave no trace" ethics and safety in Nature will be emphasized throughout the week so that campers will leave equipped with a better understanding of how to responsibly interact with the natural world.
Can You Dig It? camp will have two sessions, July 8th-12th and July 15th-19th, 8:30 AM – 3:30 PM. Each session is the same.
Daily themes:
Rocks and Soils.

Welcome to camp! On the first day kids will make new friends while learning the basics of geology. There will be holes to dig and interesting rocks to study, plus awesome arts and crafts. And of course there will be music, games, and much more!

Bones and Skeletons.

The second day of camp will focus on the bones and skeletons that animals leave behind, and what we can learn from them. Kids will study museum specimens and work on crafts based on animals of the Santa Cruz area. Everyone will also get a chance to study the Museum's amazing skull and bone collection!

Oceans.

Kids will take a field trip to Seabright Beach to learn how the ocean affects the land and how it contributes to the rock cycle. Kids will study (and play in) the sand in an immersive learning experience. At the Museum kids will then get to learn about the creatures that call the rocky shore home with our touch tidepools

Fossils and Paleontology.

Get ready to learn all about the different creatures that called Santa Cruz home millions of years ago. Campers will get to dig around in our fossil pit and examine real fossils collected from around Santa Cruz. Kids will try out different methods of excavation that paleontologists use to find fossils.

Archaeology and Human History. 

On our last day of camp kids will learn all about the Ohlone people that have called Santa Cruz home for thousands of years. Campers will get to practice traditional skills and hear Ohlone stories while learning about how archaeologists study people of the past.
On the Friday of camp we welcome families to join us for an open house and to get a tour from your own Museum expert!
---
*We have limited scholarships to support families with demonstrated financial need. CLICK HERE to apply for a scholarship.
Cancellation Policy: All cancellations will incur a $15 processing fee. Cancellations at least 2 weeks before the start of camp will be refunded. Cancellations within 2 weeks of the start of camp may not be eligible for refund. If the Museum cancels camp for any reason, you will be fully refunded.