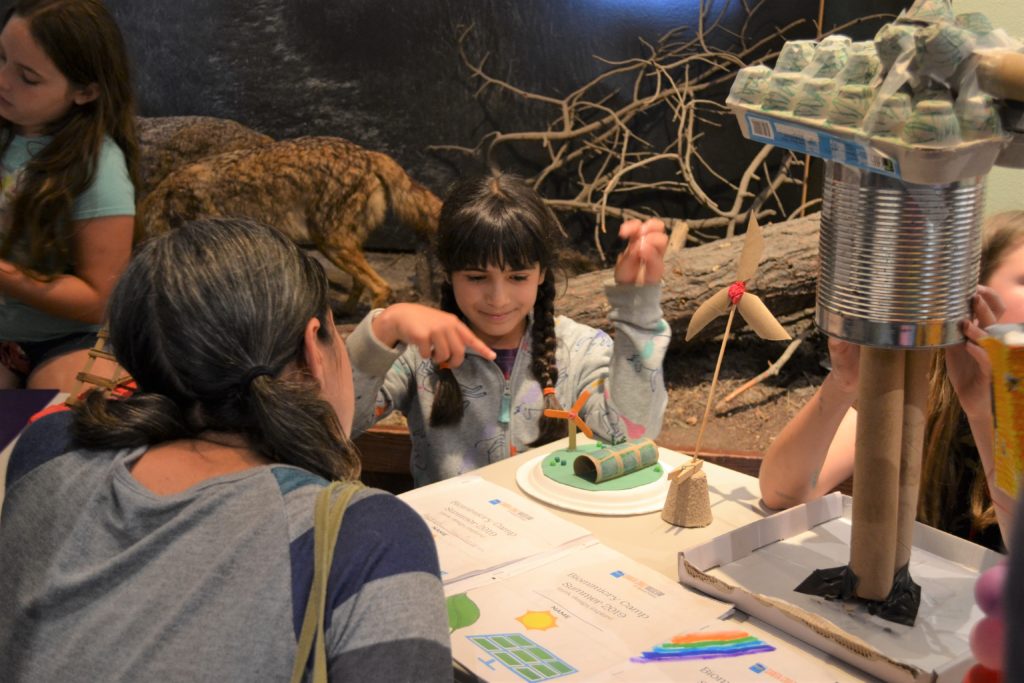 Dates: July 27 – 31
Times: Drop-off 8:30 – 9 am | Pick-up 3 – 3:30 pm
Grades: Campers entering grades 5-6 (10-11 years old)
Prices (includes materials and daily snacks): $295* non-members | $275 Family membership and up | Siblings get $20 off
Ratio: 15 : 2
Registration: HERE
Explore sustainable solutions by finding inspiration in nature! Campers will spend the week navigating challenges and engineering solutions that promote sustainable living. We'll build connections to nature and practice stewardship for our future! Now with new field trips!
*We have limited scholarships to support families with demonstrated financial need. CLICK HERE to apply for a scholarship.
Daily Schedule:
Monday: What Is Biomimicry?
Locations: Museum and Tyrrell Park
The first day of camp will focus on learning about the concept of biomimicry and building friendships with other campers. Kids will learn about the ways that scientists and engineers are turning to the natural world for inspiration for future technologies. Campers will be introduced to our design challenge of the week where they will work together to create solutions influenced by nature.
Tuesday: Habitats Of Urban Santa Cruz
Location: Museum, Seabright Beach, Santa Cruz Harbor, Arana Gulch
Campers will travel from Seabright Beach to Arana Gulch exploring the many different habitats to be found within a short walk of the Museum. They will learn from the many creatures that live at the beach and harbor before hiking around the nearby Arana Gulch Open Space Preserve.
Wednesday: A Botanical Trip Around The World
Locations: Museum and the UCSC Arboretum
To study similarities and differences between different habitats and plants around the world we will travel to the world famous Arboretum at the University of California Santa Cruz. The Museum will provide bus transportation to and from the field trip site. Drop-off and pick-up will occur at the normal times at the Museum.
Thursday: Forest Follies
Locations: Museum and Henry Cowell Redwoods State Park
To learn about the amazing forests of Santa Cruz we will take a field trip to Henry Cowell Redwoods State Park to get inspiration from some of the tallest trees that have ever lived. The Museum will provide bus transportation to and from the field trip site. Drop-off and pick-up will occur at the normal times at the Museum.
Friday: Building Something New
Locations: Museum and Tyrrell Park
The lessons that campers learn throughout the week will culminate in a group project and presentation for visiting families at our Open House. Kids will think of ways that people could engineer solutions that use biomimetic designs to reduce resource use, increase energy production, build sustainably, and reduce our impact through cleaner and less wasteful living. Please join us at the end of the day for our Open House to see the amazing inventions and ideas that campers have created throughout the week!
---
Cancellation Policy: All cancellations will incur a $15 processing fee. Cancellations at least 2 weeks before the start of camp will be refunded. Cancellations within 2 weeks of the start of camp may not be eligible for refund. If the Museum cancels camp for any reason, you will be fully refunded.
The Museum's education staff has years of experience in environmental education, outdoor learning, and running camps at various outfits across the state and are eager to share their passion for the environment with your family. Feel free to share your thoughts, concerns, or questions with education@santacruzmuseum.org
CLICK HERE to view Frequently Asked Questions on our main camp page.