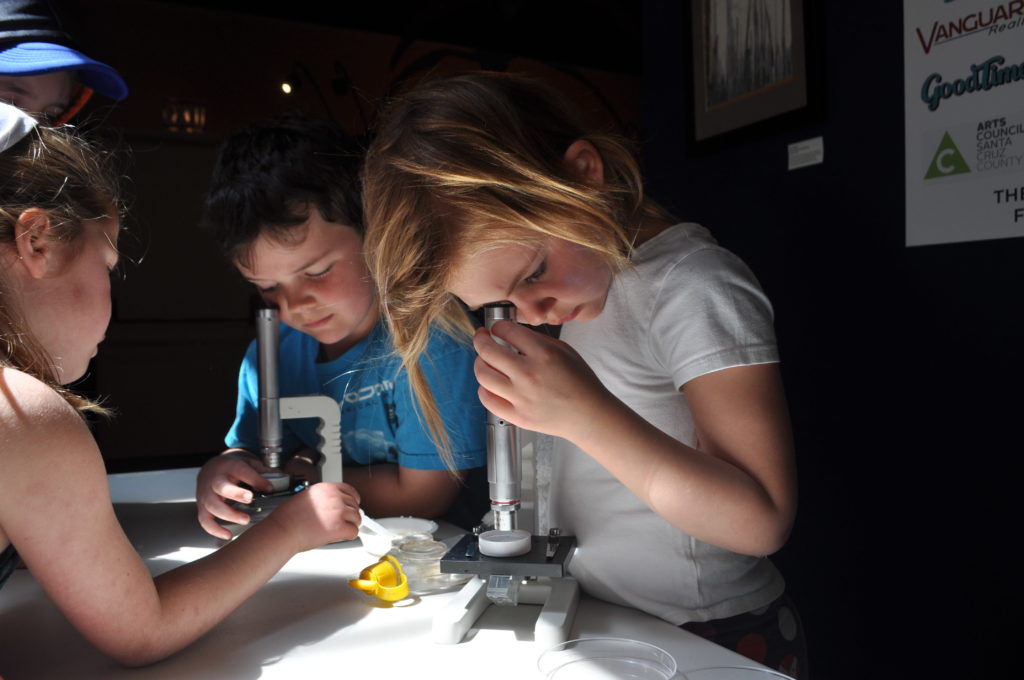 Dates: August 3-7
Times: Drop-off 8:30 – 9 am | Pick-up 3 – 3:30 pm
Grades: Campers entering grades 3-4 (8-9 years old)
Prices (includes materials and daily snacks): $295* non-members | $275 Family membership and up | Siblings get $20 off
Ratio: 10 : 2
Registration: HERE
Have you ever wondered how some people know so much about nature? The Santa Cruz Museum of Natural History presents Budding Naturalists, a camp where young adventurers (entering 3rd-4th Grade) can join us on a journey to learn the skills that naturalists use to study plants, animals, rocks, fossils, and more. Campers will become more observant of the processes of nature around them and deepen their appreciation for the natural world.
Every camper will create artwork to take home, make scientific discoveries, and create memories, friendships, and a personal connection to the unique nature of the Santa Cruz coast. Each of the five days will focus on a different theme that will guide a variety of science investigations, explorations, art, and games. "Leave no trace" ethics and safety in nature will be emphasized throughout the week so that campers will leave equipped with a better understanding of how to responsibly interact with the natural world.
*We have limited scholarships to support families with demonstrated financial need. CLICK HERE to apply for a scholarship.
Daily Schedule:
Monday: Noticing Nature
Locations: Museum and Tyrrell Park
Welcome to camp! Our week begins with some learning some of the ways that people can become aware of nature around them. Campers will receive a nature journal to use throughout the week and get to find their own place around the park to be their "sit spot" for observing nature. They will get to practice their stealth skills by playing games and practice their investigative skills searching through the museum's collections. Kids will get to make arts and crafts and have opportunities to make new friends.
Tuesday: Animal Action
Locations: Museum, Tyrrell Park, San Lorenzo River Walk, Seabright Beach
Animals are always fun to watch, but a good naturalist looks deeper than that. Kids will learn how to observe animals without disturbing their behavior and investigate museum specimens up close. Our hike will take us to 3 different habitats where we will get to observe animals using binoculars and spotting scopes. Campers will play games about animals and make lots of great art.
Wednesday: Rock Whisperers
Locations: Museum and Tyrrell Park
Rocks and fossils can tell you the whole history of the world if you know what to look for. Campers will learn about the many ways that geologists, paleontologists, and archaeologists piece together our understanding of history using rocks and artifacts. There will also be fun geology games and more!
Thursday: A Passion for Plants
Locations: Museum, Tyrrell Park, Santa Cruz Harbor, Arana Gulch
The world of plants is a wide one. But naturalists use their knowledge of plants and where they find them growing to be able to understand a lot about a particular habitat. Campers will learn some native plants while going on a hike from the Museum to Arana Gulch. They will play games and do arts and crafts using plants and their parts.
Friday: Now You're A Naturalist!
Locations: Museum, Tyrrell Park, Seabright Beach
The last day of camp will help campers learn how to use their new skills to create a clear understanding of nature. There will be time to play and also time to reflect and enjoy the quiet, little things that nature also offers. Our day will end with a beach cleanup to help emphasize a good naturalist's desire to protect nature. Please join us at the end of the day for our Open House!
---
Cancellation Policy: All cancellations will incur a $15 processing fee. We recognize the unprecedented challenges to families at this time, and are waiving our policy that cancellations within 2 weeks of camp are non-refundable. If your child must stop attendance because they or someone that they have come into contact with feels ill, you will be refunded a pro-rated amount. We do not want financial considerations to interfere with making healthy decisions for your family.  
If the Museum cancels camp before it begins, you will receive a full refund. If camp must be cancelled after beginning, you will receive a pro-rated refund.
The Museum's education staff has years of experience in environmental education, outdoor learning, and running camps at various outfits across the state and are eager to share their passion for the environment with your family. Feel free to share your thoughts, concerns, or questions with education@santacruzmuseum.org
CLICK HERE to view Frequently Asked Questions on our main camp page.