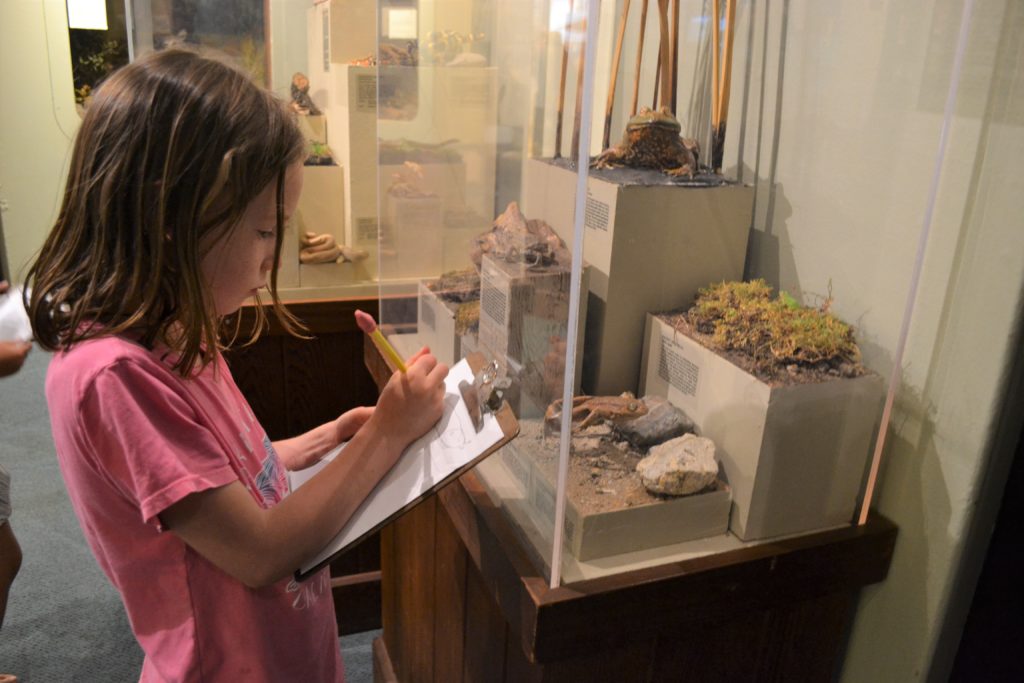 Dates: July 6 – 10
Times: Drop-off 8:30 – 9 am | Pick-up 3 – 3:30 pm
Grades: Campers entering grades K-2 (5-7 years old)
Prices (includes materials and daily snacks): $295* non-members | $275 Family membership and up | Siblings get $20 off
Ratio: 10 : 2
Registration: HERE
Are you curious about collecting? We invite you to join us this summer to learn about the natural world by studying museum specimens, exploring outdoors, and building a museum exhibit of your own.
*We have limited scholarships to support families with demonstrated financial need. CLICK HERE to apply for a scholarship.
Daily Schedule:
Monday: Magnificent Museum
Locations: Museum and Tyrrell Park
Welcome to camp! The first day will be focused on making new friends and connections while exploring the museum and the surrounding park. Campers will learn about the many different things on display and how the Museum acquires them. They will dig for replica fossils in the dig pit, examine items from the Museum's collection, play games, and make nature-themed art.
Tuesday: Looking At Life
Locations: Museum and Tyrrell Park
Campers will go outside to study living specimens, from birds to bugs, and use scientific tools to make detailed observations about nature. Kids will learn safe and ethical methods for catching and releasing insects and invertebrates. They will also get to play games and make great arts and crafts about the animals and plants we will be studying.
Wednesday: Beach Combers
Locations: Museum and Seabright Beach
The beach is a living museum, offering up interesting rocks, shells, feathers, and sometimes even bones! Campers will visit Seabright beach and build their own "Beach Museum". Kids will get a chance to visit our tide pool touch tank and study the museum's ocean specimens to get an idea of the kind of life that can be found in the ocean.
Thursday: Preserving Plants And More
Locations: Museum and Tyrrell Park
Kids will learn about our local plants and all sorts of fun things that you can do with them. Campers will make art using plants and learn different ways to preserve them for future studies or use. They will play games about plants and even help with taking care of our native plant garden.
Friday: Making A Museum
Locations: Museum and Tyrrell Park
Campers will have an opportunity to set up their own museum display for our visitors to view during our end of the week Open House. Kids will get a chance to take their guests on a personalized tour of the museum and show off all of the amazing discoveries that they have made at camp. Please join us for our end of the week Open House!
---
Cancellation Policy: All cancellations will incur a $15 processing fee. We recognize the unprecedented challenges to families at this time, and are waiving our policy that cancellations within 2 weeks of camp are non-refundable. If your child must stop attendance because they or someone that they have come into contact with feels ill, you will be refunded a pro-rated amount. We do not want financial considerations to interfere with making healthy decisions for your family.  
If the Museum cancels camp before it begins, you will receive a full refund. If camp must be cancelled after beginning, you will receive a pro-rated refund.
The Museum's education staff has years of experience in environmental education, outdoor learning, and running camps at various outfits across the state and are eager to share their passion for the environment with your family. Feel free to share your thoughts, concerns, or questions with education@santacruzmuseum.org
CLICK HERE to view Frequently Asked Questions on our main camp page.