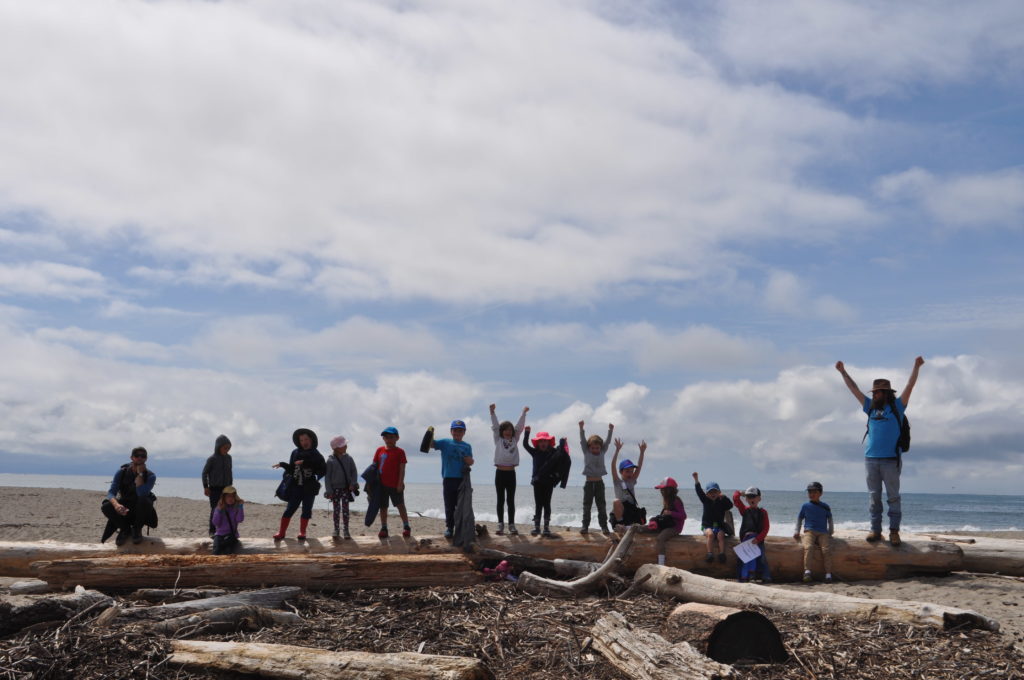 Dates: July 20 – 24
Times: Drop-off 8:30 – 9 am | Pick-up 3 – 3:30 pm
Grades: Campers entering grades 3-4 (8-9 years old)
Prices (includes materials and daily snacks): $295* non-members | $275 Family membership and up | Siblings get $20 off
Ratio: 15 : 2
Registration: HERE
Have you ever wondered what it takes to be able to live here in Santa Cruz? The Santa Cruz Museum of Natural History is proud to present Surviving Santa Cruz camp all about the amazing and sometimes unique animals and plants that live around us. This summer, young adventurers (entering 3rd-4th Grade) can join us on a journey to investigate our local flora and fauna to understand how they survive in their habitats. Campers observe, explore, and appreciate the wonders of the natural world here in our backyard as well as the many natural habitats in Santa Cruz.
Every camper will create artwork to take home, make scientific discoveries, and most importantly create memories, friendships, and a personal connection to the unique nature of the Santa Cruz coast. Each of the five days will focus on a different theme that will guide a variety of science investigations, explorations, art, and games. "Leave no trace" ethics and safety in nature will be emphasized throughout the week so that campers will leave equipped with a better understanding of how to responsibly interact with the natural world.
*We have limited scholarships to support families with demonstrated financial need. CLICK HERE to apply for a scholarship.
Daily Schedule:
Monday: Where Do We Live?
Locations: Museum and Tyrrell Park
Welcome to camp! The first day of camp will focus on learning about the different habitats of Santa Cruz County. Campers will learn about the incredible diversity around us and think about the ways that living creatures are able to survive here. Kids will make new friends and connections to the natural world of Santa Cruz while playing fun games and making art.
Tuesday: Amazing Animal Adaptations
Locations: Museum and Tyrrell Park
The various habitats of Santa Cruz support a wide variety of animals, including some very special ones. Campers will play games and investigate our museum specimens to learn about the amazing skills and abilities that these animals have to be able to survive in the wilds of Santa Cruz. They will also get to meet a special animal guest!
Wednesday: Survival In The Sea
Locations: Museum, Tyrrell Park, and Seabright Beach
The ocean is by far the biggest habitat on planet Earth and we get to visit it in person. We will walk over to Seabright beach to learn about the many ways that plants and animals are able to survive in the ocean and on the coast. Kids will get to spend time in the sand and visit the Museum's tide pool touch tank.
Thursday: Forest Follies
Locations: Museum and Henry Cowell Redwoods State Park
To learn about the amazing forests of Santa Cruz we will take a field trip to Henry Cowell Redwoods State Park to see some of the tallest trees that have ever lived. The Museum will provide bus transportation to the field trip site. Drop-off and pick-up will occur at the normal times at the Museum.
Friday: Survival Skills Through History
Locations: Museum and Tyrrell Park
Humans have acquired incredible survival skills throughout the history of our species and our campers will get an opportunity to try out some of these skills. They will get to use museum artifacts to learn how the Native people of Santa Cruz traditionally survived for thousands of years. Please join us at the end of the day for our Open House and let your camper take you on a personalized tour of the Museum.
---
Cancellation Policy: All cancellations will incur a $15 processing fee. Cancellations at least 2 weeks before the start of camp will be refunded. Cancellations within 2 weeks of the start of camp may not be eligible for refund. If the Museum cancels camp for any reason, you will be fully refunded.
The Museum's education staff has years of experience in environmental education, outdoor learning, and running camps at various outfits across the state and are eager to share their passion for the environment with your family. Feel free to share your thoughts, concerns, or questions with education@santacruzmuseum.org
CLICK HERE to view Frequently Asked Questions on our main camp page.