Educators, parents, and community members are encouraged to learn and explore. We hope to connect people with nature through many means. Educational Kit Rentals and Specimens/Artifact Rentals are one way to enrich a lesson, or learn something new. On this page you will also find links to other organizations and resources that we find useful and accurate.
The Educational Kits come with artifacts or specimens, materials to support activities, and suggested curriculum. We strive to make the kits suitable for a range of ages or grades, and the artifacts can be used for the provided curriculum or to support your own lessons! We recommend that teachers rent kits to accompany their Museum-led field trips to deepen the impact of the lessons.
*Educational Kit contents will be sanitized between uses. Items that cannot be sanitized will be quarantined for two weeks between uses.*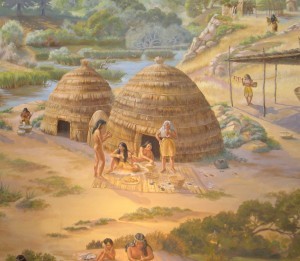 Ohlone Kit
Best for K-4th grade. Examine Ohlone basketry, uses of native plants, how to process acorns into food, and animals that were important to Ohlone culture. Study oral tradition and storytelling, Ohlone art, and other cultural practices.
Animal Kit
Best for K-4th grade. Learn about animal adaptations and local habitats. Become skull and track detectives using real specimens.
Wetland Walk Kit
Best for 3rd grade. The activities within this kit will give your students a better understanding of such topics as adaptations, the wetland habitat, change in environments, and data collection. 
Nature Rangers Kit
Best for 4th grade. Give your students a better understanding of such topics as adaptations, community connectivity,  human influences and change over time using unique artifacts and hands-on exploration.
Watershed Walk Kit
Best for 5th grade. The activities within this kit will give your students a better understanding of such topics as watersheds, ecosystem connectivity, human influences, and data collection using unique artifacts and hands-on exploration.
CLICK HERE to book a field trip and add a kit to your order.
CLICK HERE to rent a kit without a field trip.
---
We have a limited selection of specimens and artifacts to rent. These do not typically come with written curriculum, but for ideas and additional resources feel free to contact our education team at: education@santacruzmuseum.org
Coyote*
Golden Eagle*
Great Horned Owl
Mallard Duck
Ohlone Mortar and Pestle (large)
Basket Set (replica examples to be used in teaching Ohlone curricula)
Fossil Kit
Rock Kit
*Golden Eagle and Coyote specimen are in large cases that require 2 people to carry and do not fit in standard passenger vehicles. Trucks, vans, or hatchback vehicles required.
**Other resources may be made available upon request. Email us at education@santacruzmuseum.org to inquire about other resources you might be interested in.
CLICK HERE to rent a specimen or artifact.
---
Digital Resources
We have found these websites and resources to be useful, accurate, and appropriate. Please note that web content is subject to change and the Museum is not responsible for the information found on the following links.
Indigenous People
Wetlands and Watersheds
Local Ecology/Natural History
Other Educational Resources
The 5E Instructional Model:  http://enhancinged.wgbh.org/research/eeeee.html
CREEC – California Regional Environmental Education Community: The CREEC Network, administered by the California Department of Education, is a communication network supporting the environmental literacy of California's students by providing teachers with access to high quality environmental education resources. http://www.creec.org/
---
We appreciate your help in keeping this information up to date! Feel free to contact education@santacruzmuseum.org if you find a link to be broken or inappropriate, or to make a suggestion.