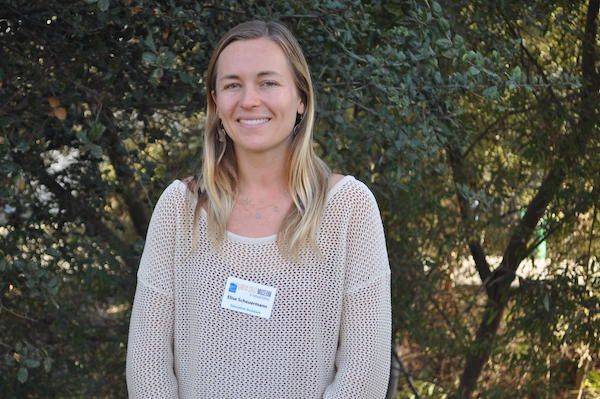 Elise Scheuermann, one of our newest Education Assistants, has been exploring the outdoors since she was a child. She grew up in Santa Barbara, where she spent her time discovering tide pools, trekking in the mountains, and swimming in the ocean. Her family encouraged her to spend as much time outside as possible and together they spent many weekends camping on a remote piece of land in the Ventana Wilderness.
She feels lucky to spend every day outside and continually feels that working with children is a rewarding experience that gives her a strong sense of purpose.
"In my short time here I have had multiple students tell me that our field trips are the best one that they have ever been on," says Elise. "It is also exciting to hear that they want to come back and visit the Museum and our green spaces again with their families."
Elise has a B.A. in Environmental Studies and Education from the University of California, Santa Cruz and is a Certified California Naturalist. She joined the Museum as an Education Assistant in September 2019, and is integral to our school programs, leading groups at Neary Lagoon, Pogonip and at the Museum.
I grew up frequenting my local Natural History Museum and learned so much from their exhibits and programs. I have always thought it would be an amazing experience to get to work for one, so I am really excited to become a part of the team here in Santa Cruz.
When not at the Museum, Elise can be found working at Kids in Nature, a local after school program, or out surfing, biking, and taking her dog Milo on hikes around Santa Cruz. Please join us in welcoming Elise to the Museum team!