Each month in the summer, the Museum features a different local artist who is inspired by the natural world of the Santa Cruz region. Join us every First Friday June-August, from 5-7pm to meet the artists as we debut their work. FREE Admission for First Friday.
June: Trees of Coastal California by Margaret Niven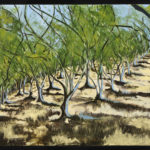 I am fascinated by spaces between lines. After collecting images, I go home and begin at the beginning: drawing. Then I try watercolor. Dissatisfied I draw on top of it. I want more contrast and the grain of charcoal and chalk on rough paper. Bits of remaining color remind me of light coming through leaves.  I make photo etchings layered with various other print techniques. By layering images and color I find a balance between photographic realism and the experience of walking through trees, then I paint. What I learn through drawing and printing informs the paintings. It helps me find that same balance between realism and experience. Learn more about Margaret HERE.
---
July: Brink- The Art of Conservation by Diana Walsworth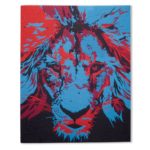 Diana Viacheslavovna Walsworth's inspiration for her artwork comes from her love of the wild outdoors, where she frequently has unique encounters with animals. Diana has invented her own painting process, where she dabs acrylic paint onto her canvases using a sewing needle. The result of this patient approach is a beautiful textured representation that brings depth to her art. Learn more about Diana HERE.
---
August: Nature in the Round and Square by Linda Cover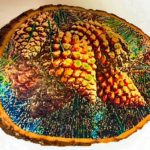 Linda Cover reflects the wonders of the natural world around her through her photography, transferred to wood, using a unique Orange oil transfer process. Her images are from the local forests, rivers and urban settings. Join us on Friday, August 3rd from 5-7pm for a live demonstration of  Linda's transfer process. Learn more about Linda HERE.
---
Summer Art Series is supported by the following sponsors: