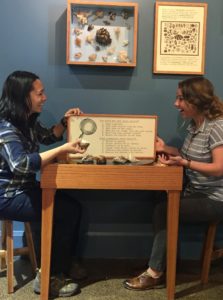 A museum is many things — it is a keeper of collections and the important stories they hold, a space to explore exhibits with loved ones, and a community center to come together to learn and discover through engaging programs, just to name a few. In our case, it is also a strong team of talented individuals who strive to share its mission every day. I am so proud of the creative and dedicated team of staff and volunteers we have here at the Museum, such as Education Manager Felicia Van Stolk and Museum Programs Coordinator Marisa Gomez (pictured here having fun in the Santa Cruz Naturalist Exhibit.) I hope you will take an opportunity to get to know us better through our Faces of the Museum blog, which this month features our newest team member, Development Manager Ami Davis.
Throughout my two years leading our Museum, I have encouraged my team to expand our programming in new directions, establish and strengthen community partnerships and seek fresh ways to connect our community to nature and fulfill our mission. This month they have outdone themselves!
In June, we will have something for everyone, from compelling adult programs like Dr. Alison Galloway's talk "Life of the Dead: The Natural History of Human Decomposition" at the Rio Theatre on June 6 to great family friendly events like our free Summer Kick-Off Festival at the Museum and surrounding Tyrrell Park on June 10. We also offering a guided hike of the Bonny Doon Ecological Reserve, a Naturalist Night talk on our diverse North Coast, and the opportunity to participate in helping restore Seabright Beach to its pristine glory. In addition, we are starting a new slate of summer camps with a week-long "Future Scientists Camp" in late June through Cabrillo Extension in Watsonville and "Winged and Wild" and "Can You Dig It?" nature-based camps at the Museum in July and August. Whew, the summer is bursting with opportunities to connect to our region's natural wonders!
This month also marks the end of our wonderful scientific illustration exhibit The Art of Nature. Come by before June 18 to catch this great show — I recommend visiting on June 2 during our First Friday Art Tour event, which will feature scientific illustration demonstrations by exhibit artist Mattias Lanas. First Fridays are a special way to see this exhibit, complete with libations, nibbles and exhibit artists on hand to talk about their inspirations and technique.
I hope you'll join us on one of these upcoming programs or simply stop by and say hello to our team at the Museum. We'd love to hear from you!
Thank you,
Heather