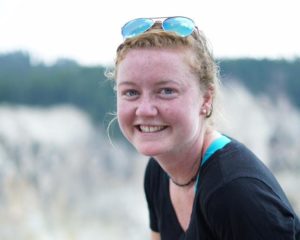 Maura Connolly is the newest member of the Museum team. She started in September 2017 as our Volunteer Coordinator.
A native of Boston, Maura attended Wake Forest University in North Carolina before joining AmeriCorps. Her first assignment was in Tennessee, performing education and outreach about recycling for a county government.
AmeriCorps led her next to California, where she spent a year working as the volunteer coordinator for the UC Santa Cruz Arboretum and Botanic Garden, and later two nonprofit organizations.
Maura likes working with volunteers because of their commitment to the community.
"I like that they are willing to show up and contribute to the community, and that this is how they choose to spend their time," Maura said. "I love getting to know them as individuals and learn from their experience and knowledge."
Maura said she is especially glad to be working in Santa Cruz because of the natural beauty surrounding it.
"It's the reason I came to California—I wanted to be close to nature" she said. "I love the beach and am blessed to be among the redwoods. Living and working here have totally inspired me to share my new knowledge with our visitors and volunteers."