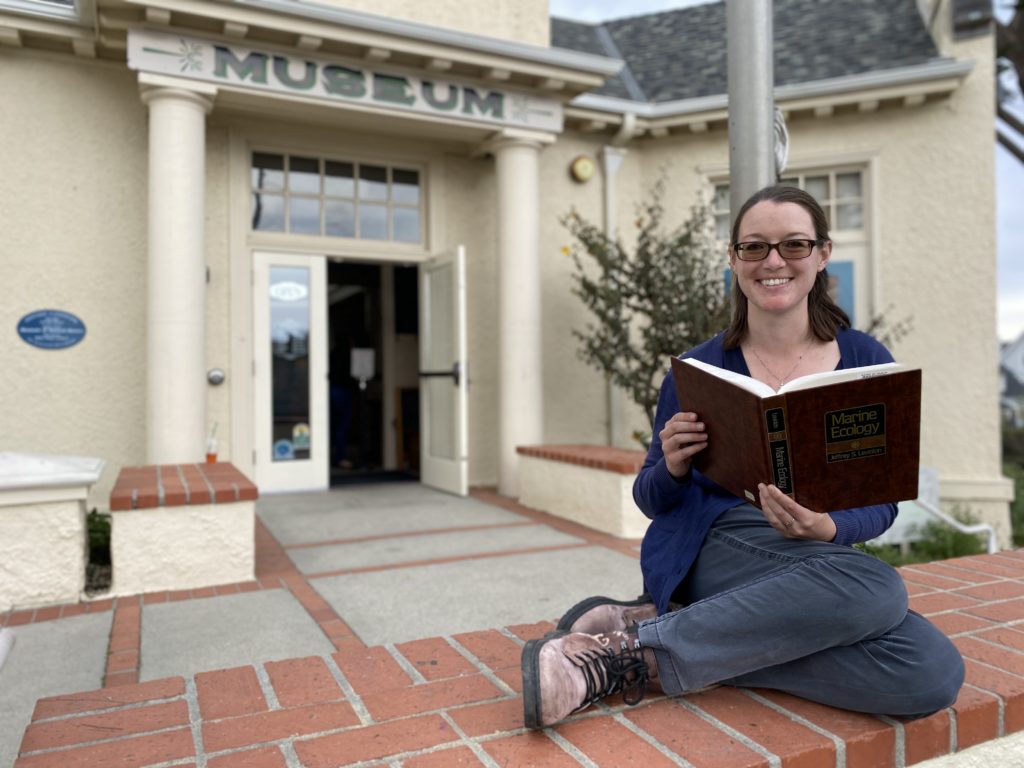 We cover a gamut of topics here at the Museum, from the mysteries of the ocean to the delights of the forest and everything in between. Because of this, our Volunteer Program is full of community members who are drawn to us for a variety of reasons. From retired teachers interested in connecting our youth to the culture of the Amah Mutsun to researchers enthusiastic about sharing their love of rocks with others, we've got it all.
So we are thrilled to welcome our new Volunteer Coordinator, Natalie Johnston — an enthusiast of all things natural history.
Natalie has helped to teach astronomy classes at UC Davis where she received a B.S. in Biological Sciences, she's managed the science section at a bookshop, and for the past seven years has worked as a science communicator at an aquarium. So from the land to the oceans and everything outside of our atmosphere, Natalie is full of interesting factoids.
Natalie grew up in the Chihuahuan Desert, but has spent half of her life in the Monterey Bay area. Every day, she is grateful for the abundant trees, beautiful ocean, and moderate climate. "While I may not be a native species," she jokes, "I hope I'm considered naturalized, not invasive, at this point."
Natalie loves to learn, and thinks that the Museum is the perfect place to do so. Every time she talks to one of the Museum's volunteers, she learns something new. In addition, she's drawn in by the passion and joy volunteers bring with their service.
Since entering her new role, Natalie has had a great deal of fun with our Saturdays in the Soil stewardship program, deepening her knowledge of native plants while helping tend to our native plant garden. She's also especially fond of the Museum's 3rd grade Wetland Walk education program at Neary Lagoon, where youth can learn how exciting bird-watching can be. We look forward to seeing what Natalie contributes to the Museum's little ecosystem.