As we enter a fresh year, I appreciate this time to reflect on the exciting achievements our Museum has made in 2016. I am also grateful to the many dedicated folks — staff, board members, volunteers and donors — who lent a hand (or two) in our ongoing transformation and evolution as an organization.
January also is a time to look forward to the many initiatives and changes on the horizon. This month, I'm starting a new blog called Contemplate in our monthly newsletter to keep our community up to date on the purposeful work undertaken by our team here to fulfill our mission.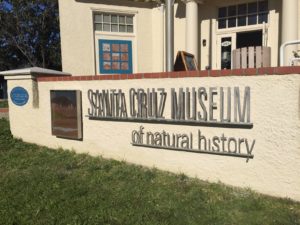 On Dec. 20, we unveiled our new entrance sign, which will be seen by the almost 20,000 visitors we welcome through our doors each year. Thousands more will see it as they make their way to nearby Seabright Beach, the Yacht Harbor or the Beach Boardwalk. The metal sign created by Santa Cruz artist Alan Ziegler features our name and logo but represents much more than just a new face to the Museum. It marks a fresh start for this precious place founded 111 years ago as Santa Cruz's first public museum.
We are very proud of our long history. Established in 1905, our museum lived in several spaces until it moved to its current home here in this lovely Carnegie Library in the 1950s. In 2009, our organization began the large endeavor of transitioning from City ownership to becoming an independent, community-supported nonprofit museum. This included a name change in 2013 to the Santa Cruz Museum of Natural History. Our new sign showcases that name and reflects the time of revitalization which we are now undertaking.
With the support of our board, donors, neighbors and volunteers, the Museum staff and I have been working hard to make the visitor experience more dynamic and engaging, while ensuring our educational programming and events are reaching new audiences. We continue to strive to connect our community's members and visitors with our region's natural and cultural history in personal, meaningful ways.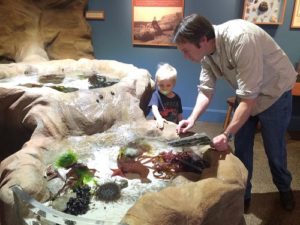 In the past three years, we have seen a 15 percent increase in general admission — this does not include school groups, member visits, or special events — just the folks who popped in to see what we are all about. And I'm also very excited to tell you the number of new memberships rose 13 percent in 2016 year over 2015.
The experiences we offer at the Museum and through our nature-based programs are expanding, and some of the most recent initiatives include:
Our Santa Cruz Naturalist exhibit with its interactive intertidal touch pools and naturalist lab, our first new permanent exhibit in over 20 years.
Rotating special exhibits, including two premieres: Photographer Jason Bradley's "California: At the Water's Edge" and local historian Frank Perry's "Big Basin's Auto Tree: One Tree, Many Stories." We also had a Mobile Museum event at Lupulo Craft Beer House in October ahead of a special sold-out Museum of the Macabre event at the Museum in celebration of Halloween.
Engaging Naturalist talks and special events, such as the fantastic presentation on big cats by Dr. Chris Wilmers in May and the exciting upcoming talk by Dr. Gary Griggs on Jan. 19 about our region's history and potential for natural disasters, within the larger climate change context.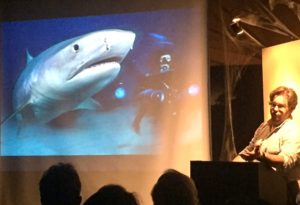 In the coming year, we also will celebrate the birthday of our founder Laura Hecox on Jan. 29 by honoring a new gravestone marking her final resting place. In April, we will feature the 28th installment of our annual exhibit of scientific illustration as well as a new exhibit created by the Santa Cruz Kids in Nature program. We also will premiere a new book about the history of Seabright here in April and are proud to have been a part of this exciting publication created by the Seabright Neighborhood Association.
This is a wonderful time for our Museum. We have so much to celebrate and there is great work yet to be done. We welcome your involvement and feedback in helping us maintain the Museum's role as irreplaceable part of our community. And if you are not already a member, we would love to have you join us at santacruzmuseum.org.
Thank you,
Heather