With the recent rains, spring is in full bloom and it is a wonderful time to discover new natural beauty all around us. Here at the Museum, our garden is alive with color and the sound of happy pollinators. Each day there is something new to observe. Throughout May and June, our programs are focusing on the natural world through a wide variety of lenses, from the historic to the artistic to the forensic.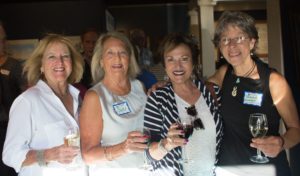 We rang in May with the premiere of the new book "Santa Cruz's Seabright" which chronicles the evolution of the Museum's neighborhood, whose story has always been intricately tied to the nature around it. We are so grateful to the book's authors, Randall Brown and Traci Bliss, and the Seabright Neighborhood Association for designating the Museum as the beneficiary of the book's proceeds. The Museum, which is featured in the book as a longtime Seabright landmark, was proud to host a launch party and reading event at the Museum and we are now selling the book in our gift store.
On May 18, we are offering a new DIY workshop for the green-minded consumer who is interested in pampering themselves with handmade, eco-friendly products. Our Eco-Friendly Workshop & Mixer will be a fun way to create your own bath and body products from organic ingredients while enjoying good company and yummy libations after-hours at the Museum.
As we look to June, we are thrilled to announce our next Rio Theater talk: On June 6, Dr. Alison Galloway, UCSC Professor of Anthropology whose work in forensic anthropology has earned her high acclaim, will give a talk titled "Life of the Dead: The Natural History of Human Decomposition." Dr. Galloway will explore what happens after death, the intricate ecosystem of insects, bacteria and natural forces that continue to live after a body dies. She will reveal the scientific methods she employs when determining what impact the natural world has on a decaying body and what circumstances may have contributed to the death.
On June 10, we will celebrate the coming of summer with our Summer Kick-Off Festival. Museum admission will be free all day, and Tyrrell Park will be full of engaging activities, live music, and live animal presentations from 10am to 5pm. It promises to be a day of family science-fun both outside in the sunshine and within our Museum galleries.
It's a great time to be part of the Museum family – with so many upcoming programs to enjoy, there is something for everyone! We hope during our May Membership Drive that you'll consider renewing your membership or deepening your relationship with us. Please come by and see us soon!
Thank you,
Heather