NOTICE: The Museum is currently closed until further notice in accordance with
California State guidelines and local ordinances. You can review the Museum's full response to COVID-19 here.
UPCOMING VIRTUAL EVENTS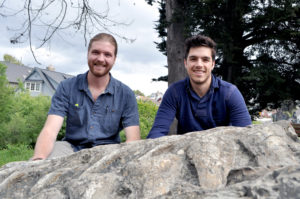 Rockin' Pop-Up
Weekly at 3 p.m.
Live on Facebook
Join the Geology Gents, Gavin and Graham, for weekly conversations about rocks live on Facebook. Each week we'll explore a different geologic topic, from Santa Cruz formations to tips for being a more effective rockhound. View past events.
—May 13: The Building Blocks of Rocks
Submit your questions ahead of time by emailing events@santacruzmuseum.org or in the comments during the program. Feel free to include pictures of rocks you'd like identified! Pro-tip: the better the picture, the better the ID.
Graham Edwards and Gavin Piccione are PhD candidates in geochronology with the Department of Earth and Planetary Sciences at UC Santa Cruz.
---
New Opportunities! We may not be able to gather in groups to explore nature and learn from experts at this time, but there are many ways that you can still learn, grow, and explore. Dig through our new collection of virtual experiences, The Museum at Your Side.
---
Want to know more about our events or share your suggestions about potential topics? Email us at events@santacruzmuseum.org.