Explore the diverse natural history of Santa Cruz with the Museum through a variety of programs — from lectures and workshops at the Museum to guided hikes and Mobile Museums around Santa Cruz County. Gain insight, build new skills, share your stories, and befriend fellow naturalists.
UPCOMING EVENTS
---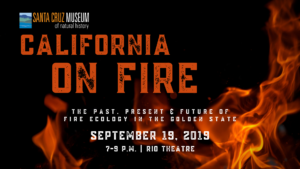 Special Event: California on Fire
Thursday, September 19 | 7-9 p.m.
Location: Rio Theatre
Pre-registration recommended
Explore the past, present, and future of fire ecology in California through a lecture and panel discussion with representatives from the Amah Mutsun Tribal Band, CalFire, the County of Santa Cruz's Emergency Services Department, and San Francisco State University. Learn more.
---
Saturday, September 28 | 10 a.m. – 12 p.m.
Antonelli Pond
Pre-registration required
Join us on this free, family-friendly walk and celebrate Take a Child Outside Week. During this birding bonanza, our Education Coordinator Spencer will take us through a wetland, grassland, and to the coast on a search for the birds of Santa Cruz. Learn more.
---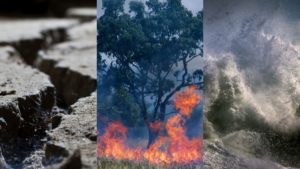 First Friday: The Natural History of Natural Disasters
Friday, October 4 | 5-7 p.m.
Location: Museum
Free Admission
Explore the natural history of natural disasters in Santa Cruz during this free First Friday open house. Enjoy free admission and refreshments during this drop-in event as you engage with a special exhibit commemorating the 30th anniversary of the Loma Prieta Earthquake and explore earthquakes, sea level rise, wildfires, and emergency response with local experts. Learn more.
---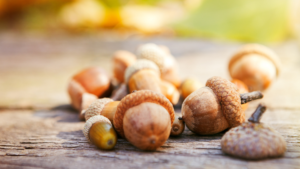 Workshop: Traditional Acorn Processing from Tree to Table
Sunday, October 13 | 10 a.m. – 2 p.m.
Location: Museum
Pre-registration recommended
During this hands-on workshop, learn how to process acorns using traditional California Indian techniques from Alex Tabone, Ranger with California State Parks. Learn more.
---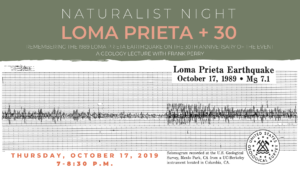 Naturalist Night: Loma Prieta + 30
Thursday, October 17 | 7-8:30 p.m.
Location: Museum
Pre-registration recommended
Join local author Frank Perry, curator of the Capitola Historical Museum, for a lecture remembering the 1989 Loma Prieta Earthquake on the 30th anniversary of the event. We'll explore the quake within the context of local geology, the history of earthquakes in this area, some of the curious phenomena associated with the shaking, and what the future may hold. Learn more.
---
Rockin' Pop Up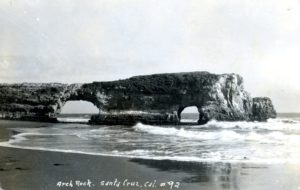 Monthly, 4th Saturdays | 10 a.m. – noon
Location: Museum
Free with Admission
Have a rock that needs identifying? Want to learn more about the geology of Santa Cruz? Like digging for fossils? Join Gavin and Graham — also known as our "Geology Gents" — for our monthly rock-talk days. Every fourth Saturday of the month, these PhD students from UC Santa Cruz will be at the Museum, ready to ID your local (or not-so-local) geologic finds, as well as show off a rotating collection of specimens. So get ready to talk shop with these rock jocks!
---
MEMBER EVENTS

Member events provide our supporters with behind-the-scenes opportunities to connect with the Museum. Join our family of Members to receive invitations to Member events and other benefits. Learn more.
---
Want to know more about our events or share your suggestions about potential topics? Email us at events@santacruzmuseum.org.