Explore the diverse natural history of Santa Cruz with the Museum through a variety of programs — from lectures and workshops at the Museum to guided hikes and Mobile Museums around Santa Cruz County. Gain insight, build new skills, share your stories, and befriend fellow naturalists.
UPCOMING EVENTS
---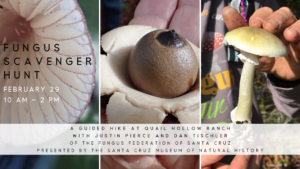 Guided Hike: Fungus Scavenger Hunt
Saturday, February 29 | 10 a.m. to 2 p.m.
$15 General | $5 off Museum Members
SOLD OUT
Quail Hollow Ranch
Join mushroom enthusiasts Dan Tischler and Justin Pierce from the Fungus Federation of Santa Cruz and explore local habitats at Quail Hollow Ranch in search of interesting fungi. Learn more.
---
March First Friday: Herpetology Happy Hour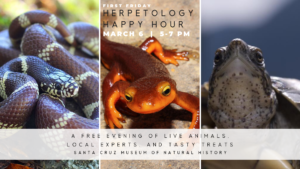 Friday, March 6 | 5 p.m. to 7 p.m.
Free Admission
Pop on by the Santa Cruz Museum of Natural History for a free open house event celebrating the world of the creeping and the crawling.Santa Cruz is a herpetologist's happy place, home to salamanders, newts, frogs, turtles, snakes, and lizards galore. Explore (and handle!) a slew of slithering friends during this "Herpetology Happy Hour." Learn more.
---
Special Event: Exploring the Equinox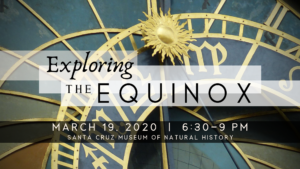 Thursday, March 19 | 6:30 p.m. to 9:00 p.m.
Free with Admission
Explore the Spring Equinox on the evening of the celestial event. A series of lightning talks at the Santa Cruz Museum of Natural History will illuminate different angles of the equinox, from the scientific to the cultural. Learn More.
---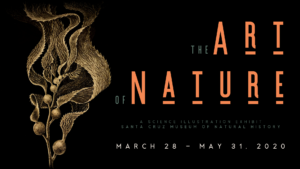 Member Exclusive: The Art of Nature Exhibit Opening
Museum Members are invited to join us for this special exhibit opening for our annual exhibit of scientific illustration, The Art of Nature. Learn more.
Friday, March 27
5:00 p.m. to 6:00 p.m. | VIP Director Walk-Through for Club level Members
6:00 p.m. to 8:00 p.m. | Member and Artist Opening Reception
---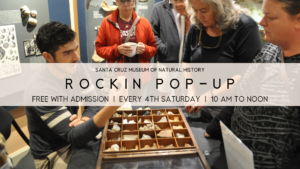 Rockin' Pop Up
Monthly, 4th Saturdays | 10 a.m. – noon
Free with Admission
Have a rock that needs identifying? Want to learn more about the geology of Santa Cruz? Like digging for fossils? Join Gavin and Graham — also known as our "Geology Gents" — for these monthly rock-talk days. Every fourth Saturday of the month, these PhD students from UC Santa Cruz will be at the Museum, ready to ID your local (or not-so-local) geologic finds, as well as show off a rotating collection of specimens. So get ready to talk shop with these rock jocks! Note: Limit of three rocks per visitor.
---
MEMBER EVENTS
Member events provide our supporters with behind-the-scenes opportunities to connect with the Museum. Join our family of Members to receive invitations to Member events and other benefits. Learn more.
---
Want to know more about our events or share your suggestions about potential topics? Email us at events@santacruzmuseum.org.