Explore the diverse natural history of Santa Cruz with the Museum through a variety of programs — from lectures and workshops at the Museum to guided hikes and Mobile Museums around Santa Cruz County. Gain insight, build new skills, share your stories, and befriend fellow naturalists.
UPCOMING EVENTS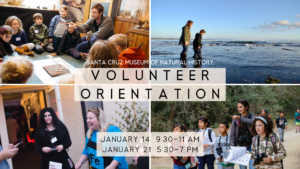 New Volunteer Orientations
Tuesday, January 14 | 9:30-11 a.m.
Tuesday, January 21 | 5:30-7 p.m.
Explore the various opportunities available to volunteers at the Museum and get started on your journey of making a difference in your community! Learn more.
---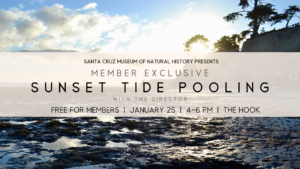 Members Only: Sunset Tide Pooling
Saturday, January 25 | 4-6 p.m.
Free for Members
Museum Members are invited to join our Executive Director Felicia Van Stolk for a special sunset low tide at the Hook. Felicia is a marine biologist and environmental educator who loves connecting people with our ocean ecosystems. Learn more.
---
Workshop: Illustrating the Kingdom of Fungi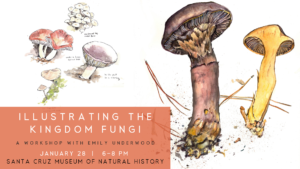 Tuesday, January 28 | 6-8 p.m.
$20 General | $5 off Museum Members
SOLD OUT
In this workshop we will draw inspiration from the Museum's special exhibit, Mushrooms: Keys to the Kingdom Fungi, and illustrate mushrooms from freshly foraged as well as desiccated specimens. Learn more.
---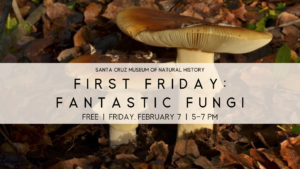 First Friday: Fantastic Fungi
Friday, February 7 | 5-7 p.m.
Free Admission
Explore our special exhibit Mushrooms: Keys to the Kingdom Fungi, enjoy a popup display from the the Fungus Federation, and bring your mushroom and lichen samples in for identification. Learn more.
---
Naturalist Night: Mushrooms and Community Science- Where to Next?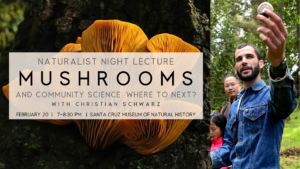 Thursday, February 20 | 7-8:30 p.m.
Free with Admission
The world is changing rapidly – in more ways than one. Citizen science has emerged as an immensely popular model of engaging with the natural world. Using mushrooms and the community of people who admire them as lenses to focus our discussion, we'll talk about where we've come from and where we're headed. Learn more.
---
Rockin' Pop Up
Monthly, 4th Saturdays | 10 a.m. – noon
Free with Admission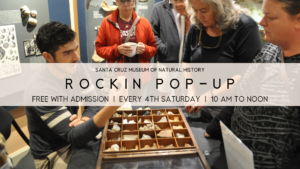 Have a rock that needs identifying? Want to learn more about the geology of Santa Cruz? Like digging for fossils? Join Gavin and Graham — also known as our "Geology Gents" — for these monthly rock-talk days. Every fourth Saturday of the month, these PhD students from UC Santa Cruz will be at the Museum, ready to ID your local (or not-so-local) geologic finds, as well as show off a rotating collection of specimens. So get ready to talk shop with these rock jocks! Note: Limit of three rocks per visitor.
---
MEMBER EVENTS
Member events provide our supporters with behind-the-scenes opportunities to connect with the Museum. Join our family of Members to receive invitations to Member events and other benefits. Learn more.
---
Want to know more about our events or share your suggestions about potential topics? Email us at events@santacruzmuseum.org.