The Santa Cruz Museum of Natural History is a leader in environmental education in Santa Cruz County, serving more than 30,000 children and adults each year.
Our school programs connect youth with nature, engage them in scientific exploration and discovery, and cultivate the next generation of environmental stewards. We cover a wide variety of natural history topics such as watershed science, animal adaptations and habitats, and the history and culture of Native Peoples. All of our offerings connect to state standards and aim to create a personal understanding of the natural world around us and our role in it.
Click on the program titles to learn more and to submit a program request: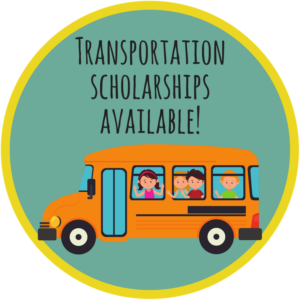 FIELD TRIPS AT THE MUSEUM
SCIENCE IN NATURE EXPERIENCES
---
Interested in renting a specimen or educational kit? All of our field trips feature optional kits that compliment and deepen the impact of the programs. Add a kit rental on your field trip request form. For information about specimen, kit rentals, and other educational resources, visit our Resource Page. 
---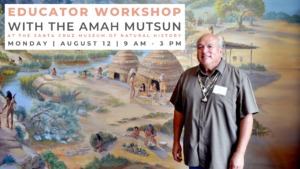 UPCOMING EVENT:
Free Educator Workshop
August 12  |  9 a.m. – 3 p.m.
Join the Santa Cruz Museum of Natural History for a collaborative workshop connecting local educators with tribal leaders and scholars.
We are pleased to welcome back Valentin Lopez, Chairman of the Amah Mutsun Tribal Band, and Sara French, Director of Programs and Development for the Amah Mutsun Land Trust, for this educator workshop. Chairman Lopez will share stories of his tribe, exploring how its long history has led the tribe to where it is today. Chairman Lopez and Sara French will also share their thoughts about how representation of native peoples in schools can improve.
Teachers will have the opportunity to work side-by-side with colleagues and tribal representatives as they consider the strengths and weakness of their current curriculum and consider ways that they might better incorporate a native perspective into future lessons.
This workshop aims to deepen knowledge, clarify terminology, and provide a space for dialogue about incorporating a native perspective into K-12 curriculum. More information provided upon registration.
---
Thanks to our school program supporters: Captain Planet Foundation · City of Santa Cruz · Community Foundation Santa Cruz County · David & Lucile Packard Foundation · Helen and Will Webster Foundation · Monterey Peninsula Foundation, host of the AT&T Pebble Beach Pro-Am · Project Learning Tree, a program of the Sustainable Forestry Initiative, Inc. · Santa Cruz Beach Boardwalk · Save the Redwoods League