Mushrooms: Keys to the Kingdom of Fungi

January 11 – February 23, 2019
The story of fungi is integral to the story of life. Wherever there is life, there are fungi. Fungi are not plants and they are not animals, they are their own category of living organism. This exhibit explores the variety of fruiting bodies produced by fungi from the edible to the outrageous. Read more.
---
The Art of Nature
Every spring, the Museum hosts its beloved annual exhibit of scientific illustration, The Art of Nature. The exhibit highlights the work of several artists whose work illustrates science in a variety of mediums with a wide range of subjects. Meet exhibit artists on the First Friday of May  for a live demonstration of scientific illustration techniques.
---
Permanent Exhibits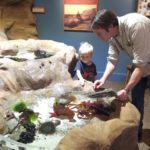 The Museum Permanent Exhibits focus on the natural history of the Santa Cruz region  and the Monterey Bay.  This includes:  Wildlife and Habitats, The Ohlone Peoples, Geology of Santa Cruz, Monterey Bay Marine Life, our outdoor Garden Learning Center, and our Santa Cruz Naturalist exhibit.
Special thanks to Donna Meyers and Birdie Hunter, the Pat and Kirk Smith Family, Patty Quillin, Randy Widera, Rick and Cole Jones, Santa Cruz Longboard Union, the Seaside Company, and Steve Mandel and Carol Foote for their support of our Santa Cruz Naturalist exhibit.
---
Investigation Stations
Explore science, nature and culture through hands-on exhibits that rotate regularly in our galleries. Learn more.