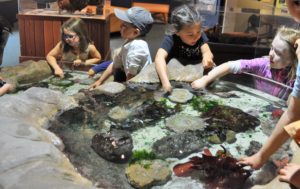 As many of you know, I will leave my position as Executive Director in late August to join my husband in the Pacific Northwest, where he has started an incredible new job opportunity. It is a bittersweet time for me as I prepare to leave this special museum and our wonderful community. As I reach the end of my tenure here, I have reflected on the many accomplishments our great team of staff, Board and volunteers has achieved since I took the lead in February 2015.
We have expanded and strengthened our public and school programs, created more dynamic gallery experiences, and renewed efforts for better management of the Museum's collections. Behind the scenes, we have established a strong operational infrastructure to support our expanded efforts. We have experienced increases in attendance, membership and giving – all while building a more financially resilient organization. I am so proud of the work we have accomplished together and of the Museum we are becoming.
During the past eight months, our staff and Board have worked together to craft a strategic plan to lead the Museum for the next three years. This plan will guide the organization in its priorities, activities and initiatives through the year 2021. It includes key strategic goals, the measurable objectives and tasks to accomplish them, and a comprehensive financial model with which to realize them.
Our Museum has made tremendous strides in the last three years and this new strategic plan outlines an equally ambitious set of goals for the next three years. These goals center on: science education and stewardship, visitor experiences and audience diversification, collections care and accessibility, community partnerships, organizational sustainability, and facility revitalizations. These strategic themes attest to our commitment to engage diverse audiences in meaningful interactions with nature and science that educate and inspire.
The Museum's new plan reflects the creativity and mission-driven dedication of many individuals. I am so thankful to the community members, staff and Board who contributed their perspectives and ideas during the process. Together, our hopes for the Museum and our community have brought the plan to life. I am confident that, through the collaboration of our talented staff, Board and community partners, the goals we now aspire to achieve will in time become milestones of which we will be deeply proud.
In the coming weeks, we will formally announce the plan and make it available to all.  I hope you will embrace it with us and support the Museum as it continues to strengthen and thrive in the future.
Thank you,
Heather Moffat McCoy