Explore the late 19th century scrapbook of an extraordinary lighthouse keeper, naturalist, and collector, and help us discover the mind of our museum's founder, Laura Hecox.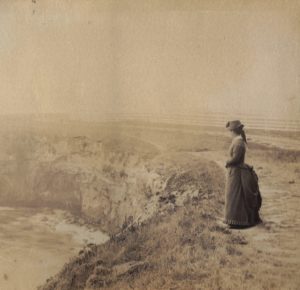 Laura Hecox was an extraordinary woman: a brilliant amateur scientist who has had species named after her, Laura was the Santa Cruz lighthouse keeper from 1883 to 1916, and a renowned collector whose lighthouse museum was known far and wide.  Her collection of natural history specimens, artifacts, and curios was gifted to the people of Santa Cruz in 1904 and forms the foundation of the Santa Cruz Museum of Natural History. While Laura meticulously cataloged this collection, she kept no known diary.  The Museum has references to her scientific correspondence, yet none is known to survive. Laura was, however, an avid scrapbooker. The scrapbook featured here is one of the few means by which we can learn more about Laura's private side and the historical context in which she lived.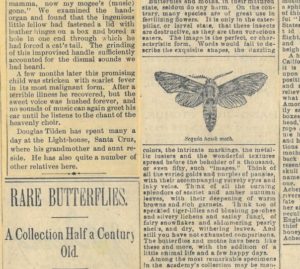 Her interests on the page were just as diverse as when collecting physical materials.  In her scrapbook, beginning with an 1895 article on women lighthouse keepers, you will see articles on topics ranging from shell identification to bay area architecture to suffrage.  By identifying the topics, titles, authors and dates of articles and clippings, you will help us to build a richer understanding of our museum's history, as well as natural and cultural history of late 19th century Santa Cruz.
To participate, visit our project page on Zooniverse.  Zooniverse is a platform for digital crowdsourcing projects, with an emphasis on citizen science.  It offers participants the freedom to help the Museum outside the confines of any particular schedule or location.
This project is indebted to the ongoing research legacy of Frank Perry, and is made possible by a partnership with the Santa Cruz Public Libraries.