Join us every first Friday of the month for free opportunities to engage with our local natural history. Whether celebrating a new exhibit or bringing together community members to share their expertise, these events are always free and open to the public. Enjoy free admission throughout the day, with special events 5-7 p.m.
---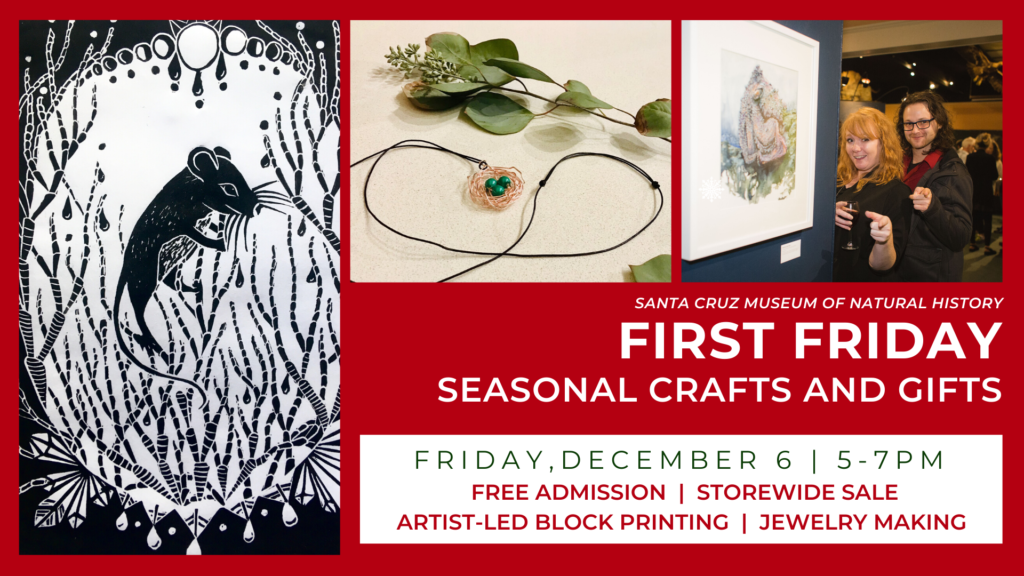 November First Friday: Seasonal Crafts and Gifts
Friday, December 6 | 5-7 p.m.
Free Admission
Location: Santa Cruz Museum of Natural History
Admission is free all day 11 a.m. – 7 p.m., with this special event occurring 5-7 p.m.
Join the Santa Cruz Museum of Natural History for a free evening exploring baskets through artifacts and hands-on practice. Basketry is an important cultural practice of California Indian tribes, both as functional tools and exquisite works of art. During this evening open house, view items from the Museum's collections, explore materials often used in California Indian baskets, and practice making coiled baskets with a variety of materials.
Give the gift of nature! Join the Santa Cruz Museum of Natural History for a free and festive First Friday event. Explore the Museum, create nature-inspired gifts, and enjoy a storewide sale. Festive treats, drinks, and gift-wrapping will be provided.
Local artists Emily Scott and Linnea Gullikson will lead a printmaking station where guests can choose and print a handmade linocut image of endangered species to adorn a greeting card. The Museum will host additional craft and gift-making stations, including nest necklaces.
This First Friday event is part of the Museum's three-day Winter Open House, Fri. Dec. 6 through Sun. Dec 8.
---
Do you have an idea for a future First Friday? Let us know at events@santacruzmuseum.org.