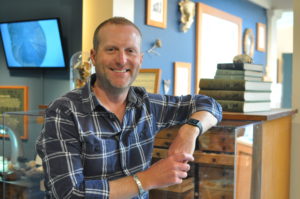 As Community Relations Manager, J.M. Brown manages the Museum's Business Partnership Program, media relations and facility rentals.
Working closely with the Development, Education and Visitors Services teams, J.M. also organizes special events, such as the annual Patrons Reception, exhibit openings, and community celebrations. J.M. joined the Museum in October 2016 after working many years in print journalism and public relations.
Although this is J.M.'s first time working for a museum, he is passionate about stewarding parks and open spaces and is particularly interested in the intersection of art and nature. He is a member of the City of Santa Cruz Parks and Recreation Commission and chairs the Arts Council Santa Cruz County Board of Directors.
"I'm so energized by the fondness and appreciation that our community shows for the Museum, and am inspired everyday by the creativity and expertise demonstrated by my colleagues," J.M. said. "And it's especially wonderful to see someone's face light up when they visit the Museum for the first time and recognize all the amazing changes that have been made in the last couple of years."
J.M. is a graduate of Indiana University's School of Journalism in his hometown of Indianapolis. He lives in the Seabright neighborhood of Santa Cruz and is a marathon runner.