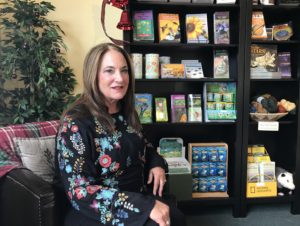 Linda Bailey knows the real value of her neighborhood.
A leading real estate broker in Seabright, the Museum's neighborhood in Santa Cruz, Linda believes strongly in reinvesting in the community where she lives and works. That's why she joined the Museum's Business Partnership Program, opting to donate a portion of the proceeds from each real estate transaction she closes in Seabright back to the Museum.
"This is such a jewel for our neighborhood—a wonderful place to bring your children, learn more about the nature around you, and gather with your friends and family members," Linda said. "Seabright just wouldn't be as special as it is without the Museum. I am happy to support their efforts, and urge my clients and friends to join as Members."
Linda was the primary sponsor of the Museum's Summer Kick-Off Festival in June and also supported our celebration in April of "Santa Cruz's Seabright," an Arcadia Publishing book about the neighborhood's history. Proceeds from the book benefit the Museum. Linda works at Vanguard Realtors, which supported The Art of Nature exhibit, also in April.
Read more about Linda and the Business Partnership Program.