This month join us in raising a glass to the field of paleontology (the study of fossils) as we explore geologic time through a layered drink in one of our favorite glasses.
The history of life on earth is measured in millions of years, and humans are only a tiny blip in that long history. While geologic time can be a hard concept to wrap your mind around, people like Aristotle (384–322 BCE) first noticed the presence of fossil shells on land and concluded that the shape of the earth's surface must have changed over time. Early scholars from across the world also made observations about the layering of rocks, and in 1669 the Danish scholar Steno proposed the Law of Superposition, a key concept to the earth sciences which generally states that stratigraphic layers on the bottom of a sequence will be older than those layered on top of them.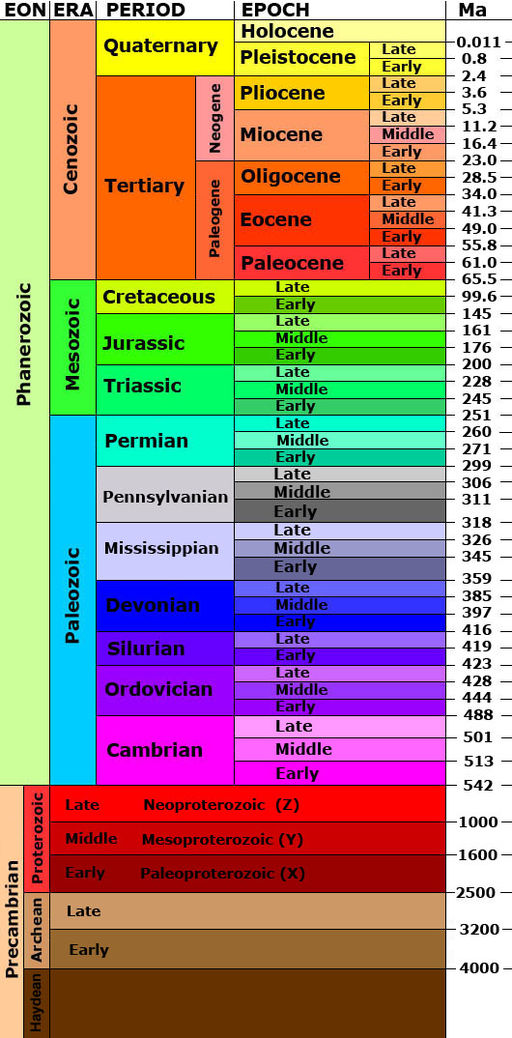 These concepts were the building blocks for the geologic time scale as we know it today. The geologic time scale is broken down into four large eons and each eon is then further broken down into eras, which are in turn divided into periods, epochs and ages. Today, we are living in the Holocene Epoch, going back 11,700 years ago it generally marks the end of the last ice age. The Holocene is also referred to as the Anthropogene, the "Age of Man" as of all recorded human history falls in this time period and it acknowledges the huge impact we have had on the earth.
Explore more about geologic time with videos from our Geology Gents and peruse our Guide to Local Fossil if you want to dig even deeper.
Layered drinks such as this one are both eye-catching and a fun way to experiment with the density of liquids. The force of buoyancy keeps the various layers from mixing as long as you are using liquids with different densities and build your drink with the heavier liquids at the bottom. Explore this resource for the relative densities of various liqueurs for your future cocktail creations.
Ingredients
0.5 oz. Grenadine or other syrup of your choice
1.5 oz. Coconut rum
1 oz. Dark rum
0.5 c. Juice (pineapple or other tropical flavor)
Ice
Recipe
Pour the grenadine into the bottom of your glass.
Fill the glass to the top with ice, trying not to splash the grenadine.
Mix your juice with the coconut rum. Slowly pour over the ice so that the force doesn't cause it to mix with the grenadine.
Top with carefully poured dark rum.
Garnish with the citrus of your choice.
Alternatives
Substitute the dark rum for blue curacao for a more eye-catching color combination.
For a non-alcoholic option, leave out the rum and experiment with the density of other additives like soda water or coconut cream.
Post by Liz Broughton