100% of your purchases support our mission to connect people with nature and inspire stewardship.
The Museum Store is a great resource for unique nature-themed gifts:
Natural history books and field guides
Unique animal and nature ornaments
Educational toys for exploring nature and understanding science
Jewelry, candles, greeting cards and more from local artists
T-shirts, hats and onesies for nature lovers
Children's books- great for the classroom or budding naturalists
The Museum Store also carries several books which are not available anywhere else:
Fossil Sharks and Rays of the Southern Santa Cruz Mountains by Frank Perry
Fossil Invertebrates and Geology of the Marine Cliffs at Capitola, CA by Frank Perry
Reminiscences of Seabright by Miss Forbes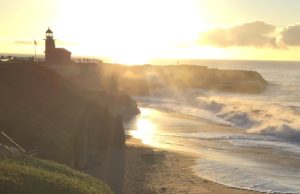 Santa Cruz Surfing Museum
We also encourage you to visit the store at the Santa Cruz Surfing Museum located inside the Mark Abbott Memorial Lighthouse on West Cliff Drive. Among the surfboards, photographs and other memorabilia on display, the Surfing Museum store offers books and other surfing-related items.