Come to the Museum for Naturalist Night and explore the diverse natural history of Santa Cruz. Each month we will feature a different guest speaker from the local community to share stories, artifacts, and knowledge about a unique aspect of our natural world. Gain insight, build new skills, share your stories, and befriend fellow naturalists.
UPCOMING LECTURES
_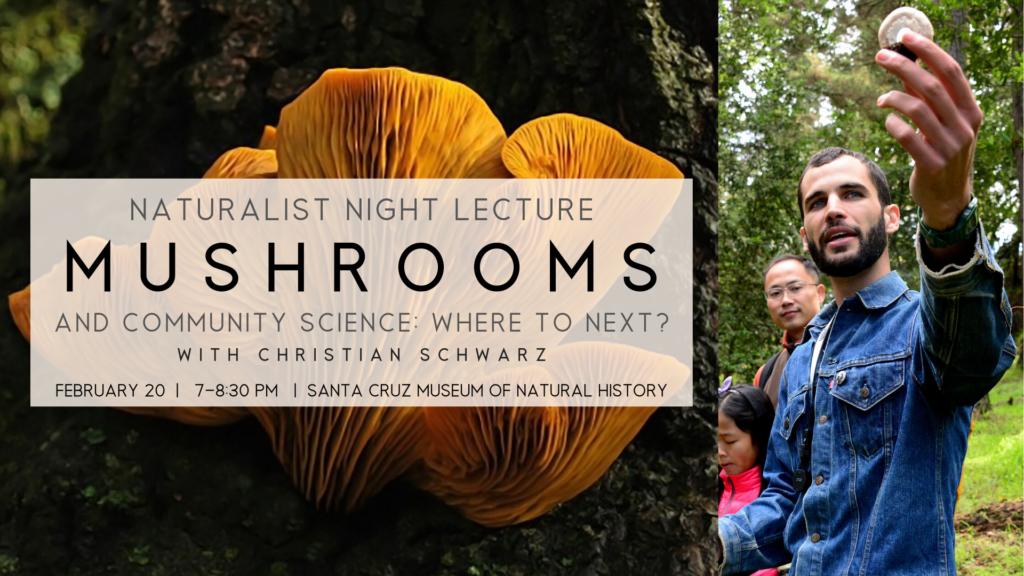 Naturalist Night: Mushrooms and Community Science- Where to Next?
Thursday, February 20 | 7-8:30 p.m. | Get Tickets
Free with Admission*
Location: Santa Cruz Museum of Natural History
Talk will begin at 7 p.m. Doors open at 6:45 p.m. Pre-registration highly recommended.
The world is changing rapidly – in more ways than one. Citizen science has emerged as an immensely popular model of engaging with the natural world. But what is it? What is community science? Are these simply special kinds of traditional science, or are they something fundamentally different? Using mushrooms and the community of people who admire them as lenses to focus our discussion, we'll talk about where we've come from and where we're headed.
About the speaker: Christian Schwarz is a naturalist currently living in Santa Cruz, the land of milk (caps) and honey (mushrooms). He studied Ecology and Evolution at UCSC, and now spends his time photographing, teaching about, collecting, and researching macrofungi. He is coauthor of "Mushrooms of the Redwood Coast". Fungi satisfy his curiosity with their seemingly endless forms – from the grotesque to the bizarre to the sublimely beautiful. Besides dabbling in mushroom taxonomy, he loves fish, plants, nudibranchs, moths, and dragonflies. He is passionate about citizen science, especially iNaturalist.
This program presented in partnership with the Fungus Federation of Santa Cruz.
---
*$4 General | $2 Students/Seniors | Free for Members and Youth Under 18
Do you have an idea for a future Naturalist Night? Let us know at events@santacruzmuseum.org. Interested in attending, but not ready to purchase a ticket? Call (831) 420-6115 or email events@santacruzmuseum.org to reserve a seat and pay at the door — events with low enrollment are subject to cancellation.