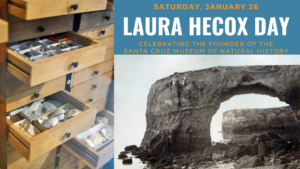 Celebrate the Founder of the Santa Cruz Museum of Natural History
Saturday, January 26, 9 a.m. – 2 p.m.
Location: Lighthouse Point
700 W. Cliff Dr., Santa Cruz
---
As keeper of Santa Cruz's original lighthouse on West Cliff Drive, Laura Hecox was responsible for ensuring the light never failed — but her work didn't end there.
In addition to being the Santa Cruz lightkeeper from 1883 to 1916, Hecox was also a naturalist whose collection of marine life, minerals, Indian baskets and other curios would eventually form the basis of the Santa Cruz Museum of Natural History's original collection. On weekends, she gave public tours of the lighthouse including her personal natural history museum, which she later donated to become the foundation of our Museum.
Join us for a day of celebrating Laura Hecox: lightkeeper, naturalist, citizen scientist, and founder of the Santa Cruz Museum of Natural History.
---
Laura Hecox Day Events
9 – 11 a.m.  |  Community Cleanup at Lighthouse Field
Help us steward this field that once housed Santa Cruz's lighthouse.
9 a.m. – 2 p.m.  |  Mobile Museum at Lighthouse Point
Explore items from the Museum's collections and learn about the history of Laura Hecox, Santa Cruz's Lighthouse, and the Museum.
10 a.m. – Noon  |  Rockin' Pop-Up
Join Gavin and Graham — our "geology gents" — for a special pop-up at Lighthouse Point and explore the coastal geology of West Cliff.