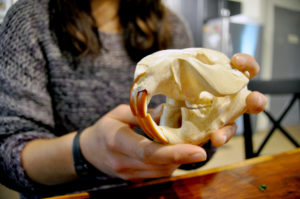 Through an interactive, inquiry-driven program using animal specimens and games, students learn how to identify native animals and discuss structures/forms that help them to survive in their habitats. By focusing on common native animals and accessible habitats, this program encourages students to connect with wildlife and builds awareness of the animals that live around us.
CLICK HERE to view a more detailed outline of the program, standards, and classroom resources. (PDF | HTML)
Grades: K-2
Days offered: Tuesday-Friday
Start time: 9:00 a.m. & 11:00 a.m. Tuesday-Wednesday. 9:00 a.m. only Thursday-Friday.
Program duration: 1.5 hours**
Cost: $40 $0, field trip fees are covered by our generous members, donors, and grant funding.
Chaperones Required: 2-6 (30 students max)
Supplemental Activities: Educational Kit ($15/week)
Months offered: September-May
**Program duration includes free-time to explore the Museum gallery spaces.
If you would like to request a transportation scholarship, please fill out this form. We will get back to you about fund availability.
---
Schedule a Field Trip