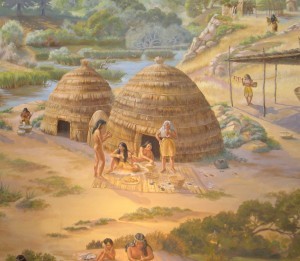 Students learn about the culture of the original human inhabitants of Santa Cruz. Through exploration in our native plant garden, exhibits, and artifacts, they see different tools and practices used to survive, and gain understanding of a native culture. In the process of learning about the Ohlone cultural connection to nature, students come to understand that humans are a part of the ecosystem.
CLICK HERE to view a more detailed outline of the program.
Grades: K-4
Days offered: Tuesday – Friday
Start time: 9:00 a.m. & 11 a.m. Tuesday-Wednesday, 9:00 a.m. Thursday-Friday. Virtual Programs available upon request.
Program duration: 1.5 hours**
Cost: $40 $0, Fees covered by our generous members, donors, and grant funding
Chaperones Required: 2-6 (30 students max)
Supplemental Activities: Educational Kit ($15/week)
Months offered: September-May
**Program duration now includes free-time to explore the Museum.
---
Request a Field Trip
Explore our available field trips below. Select a date from the calendar and then complete the request form. Museum staff will contact you to confirm the details of your reservation.
Please Note: We are receiving an unusually high number of field trip requests this time of year. Due to the high volume of requests, response time may be delayed. You may assume your preferred date and time will be approved, and may plan for the field trip accordingly. We will send a formal confirmation at least two weeks prior to the field trip date. We appreciate your patience and understanding.