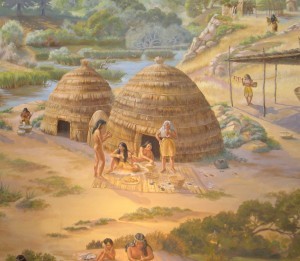 Students learn about the culture of the original human inhabitants of Santa Cruz. Through exploration in our native plant garden, exhibits, and artifacts, they see different tools and practices used to survive, and gain understanding of a native culture. In the process of learning about the Ohlone cultural connection to nature, students come to understand that humans are a part of the ecosystem.
CLICK HERE to view a more detailed outline of the program.
Grades: K-4
Days offered: Tuesday – Friday
Start time: 9:00 a.m. & 11 a.m. Tuesday-Wednesday, 9:00 a.m. Thursday-Friday. Virtual Programs available upon request.
Program duration: 1.5 hours**
Cost: $40 $0, Fees covered by our generous members, donors, and grant funding
Chaperones Required: 2-6 (30 students max)
Supplemental Activities: Educational Kit ($15/week)
Months offered: September-May
**Program duration now includes free-time to explore the Museum.
If you would like to request a transportation scholarship, please fill out this form. We will get back to you about fund availability.
---
Request a Field Trip