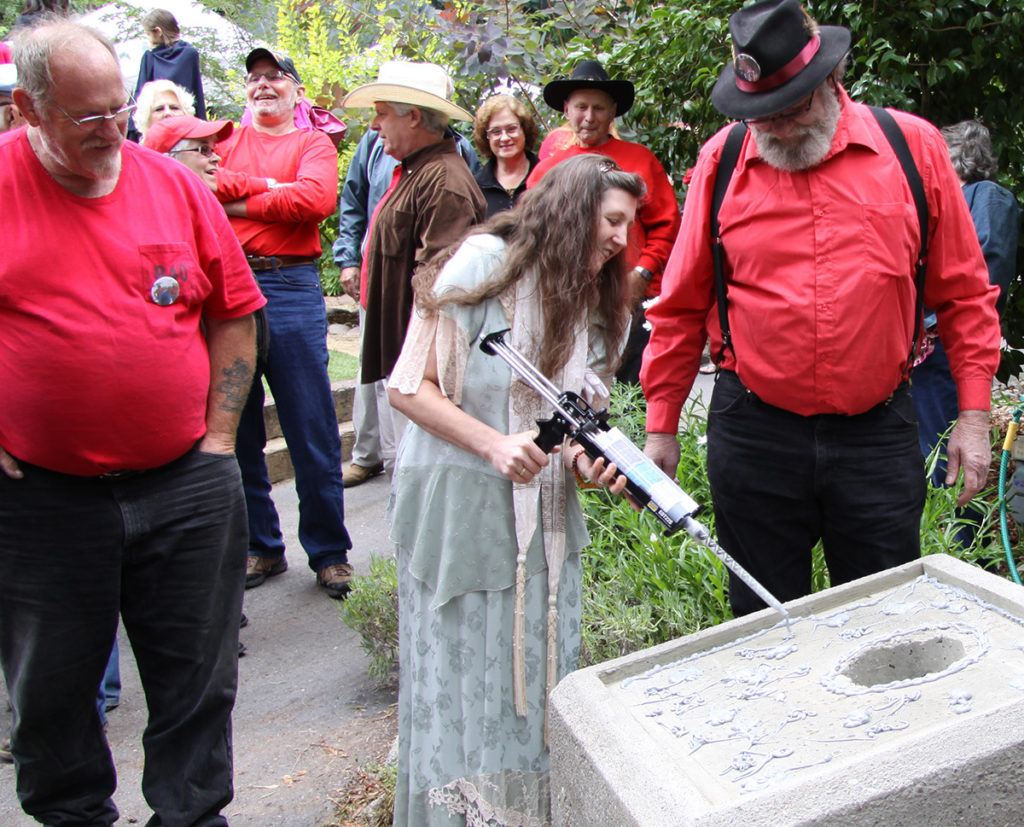 Lisa Robinson is a renaissance woman. As President of the board for the San Lorenzo Valley Historical Society, which owns and operates the San Lorenzo Valley Museum, she works on everything from website maintenance to managing collections and curating exhibits. Bringing together knowledge and skills from a wealth of disciplines learned over the course of a varied career, Lisa's own work mirrors the richness of the many histories she strives to share with her community.

It was Lisa's career as a Silicon Valley tech engineer that first brought her to the Santa Cruz Mountains. After leaving the tech world to spend more time with her family, Lisa embarked on an educational mission to support her burgeoning interest in history and art. Here she demonstrated her knack for curating coherent stories from various content – she developed her own Historic Preservation certificate from classes already being offered at her alma mater. She has applied these interests and skills to her local museum for nearly 15 years, where she began volunteering as a school programs docent.

When asked about her favorite pieces at the SLV Museum, she struggles to choose just one. There's a bound copy of a full year of the newspaper, "Community", written by a high school teacher with the help of his students; the records from a local judge telling some interesting local stories; a splinter of wood from an infamous stagecoach accident; a wooden box built from the wreckage of the burned Felton Community Hall… Diverse pieces that tell many stories in different ways. The diversity of the collection is one thing she wants folks to know about–there are so many ways to connect with the past and to better consider our current times.

Lisa's love of history is also demonstrated in her choices for her favorite nature connections: the redwoods of Henry Cowell, the lime kilns, and an old gnarly tree–the Oldest Inhabitant, on Love Creek Road. These places are not only beautiful pieces of nature, they also tell important stories about the area's rich history. You can't tell human history without telling natural history, and this is why Lisa is also a supporter of the Santa Cruz Museum of Natural History. She has played a crucial role in our collaborations, and enjoys seeing co-located exhibits at the SLV Museum and the Museum of Natural History. When the same exhibits are shown in each museum, viewing things from the perspective of natural history and cultural history, we have an opportunity to learn something different in each context.

The role of a museum, according to Lisa, is to tell stories and connect us to history, not as an abstract thing, but as something relevant and important to our contemporary lives. This can be done in many ways, but museums must strive to tell stories from as many perspectives as possible.

This is an especially exciting challenge when curating an exhibit with community-contributed content like SLV's upcoming annual holiday collections exhibit. Once the museum receives submissions of objects from local residents, Lisa's job is to tie them all together in a compelling display that is both relevant and true to their past. In that, she is a shining example and we are proud to have her as part of our Museum community.