With the Central Coast awash in new growth, this time of year finds many a fungus hunter stalking the landscape to feast their eyes, expand their minds, or feed their stomachs. For the January and February Collections Close-Ups, we went hunting in the museum's archives to highlight stories of fungus and the people who appreciate them.

A beloved institution for many of us, the Fungus Federation is a community organization that promotes love for and study of fungi. They welcome folks of all skill levels, from amateurs just learning what to look for, to experts helping science look more closely at the mycoflora of Santa Cruz County. In addition to educational events, workshops, and classes, they support scientific research through scholarships and grants. A federation member might be just as likely to help you learn what a particular mushroom is, as they are to advise you on how to cook it. Of course, one doesn't always follow the other – in the words of mushroom enthusiasts, who seem equally fond of fun sayings as they are of caution – there are old mushroom hunters and there are bold mushroom hunters but there are no old bold mushroom hunters.

And they don't just put the fun in fungi, they put on the famous annual Fungus Fair! This year's festivities will take place from January 10 to 12 at Louden Nelson Community Center. The festivities of yesteryear can also be found in our pop up display of previous fair posters.

The Federation's knack for bringing people together over fungi extends to the robust local community of science and nature illustrators. This selection of posters highlights diverse strategies and styles used to depict the natural world, from watercolor to block printing to photo collage. Oftentimes the artists have been graduates of UCSC's former science illustration certificate program. We were lucky enough to catch up with two of them.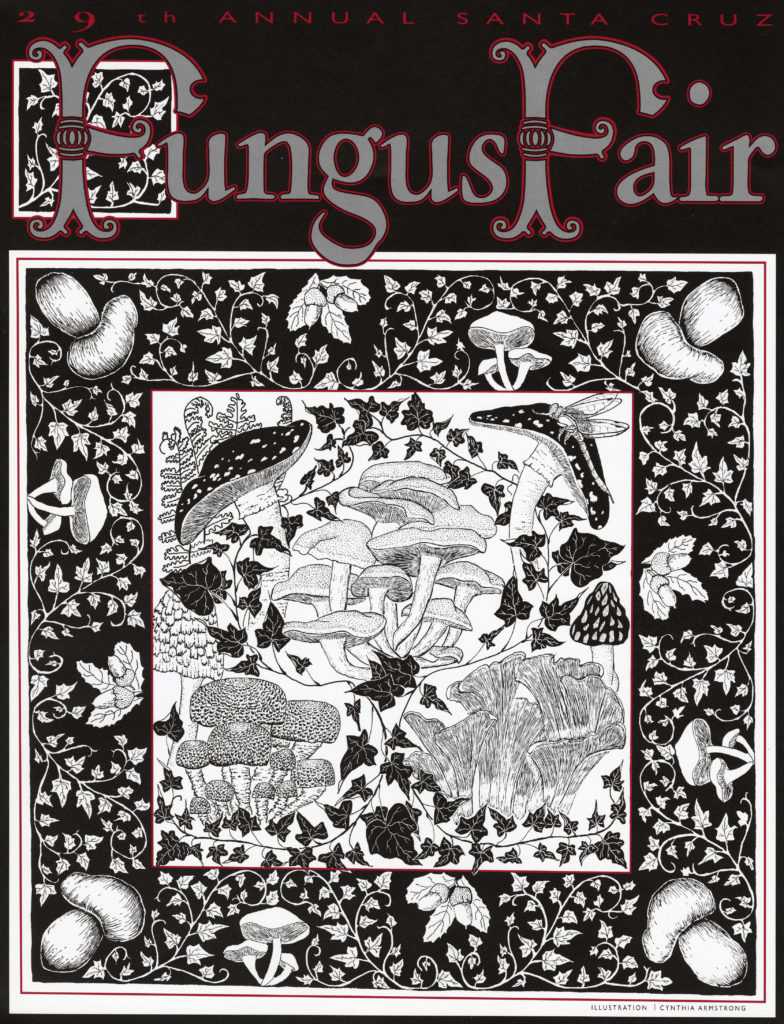 Cynthia Armstrong's illustration for the 2003 Fungus Fair poster is a striking combination of stark contrasts and intricate detail, highlighting a variety of fungus species ensconced within a delicate network of vines. She made it not long after completing her science illustration degree, committed to pursuing a career that dovetailed her first love, science, with her lifelong creative impulses. As an artist, Cynthia loves to show her processes – the unfolding of a subject in process recalls how the scientific exploration for answers often unfolds into new questions. As a science illustrator, she has enjoyed taking part in this process across the world, whether illustrating mammoth bones in Maine's state museum or documenting plants for a field botanist in Panama.

At home on the Central Coast, Cynthia loves that the redwoods are always full of opportunities to find fungus. The incredible diversity of fungus keeps her intrigued – their otherworldly and alien forms and structures are a joy to illustrate. She still regularly attends the Fungus Fair with her family, having first attended decades ago when fair founder David Arora was signing copies of his newly published classic, Mushrooms Demystified. You can catch Cynthia's current work, including local classes, on her website.

Gay Kraeger's work for the 2004 fair poster provides another perspective: four species of dreamily watercolored fungi chart a circle in time – guiding the viewer on what season one might be most likely to find them. Gay actually created this image years before she formally got into illustration. Her neighbors at the time, Fungus Federation members who were in the habit of hosting parties with delicious food, asked her to help illustrate a fungi cookbook they were putting together. Gay was happy to help – she'd always been in engaged with art, and natural history is her favorite subject.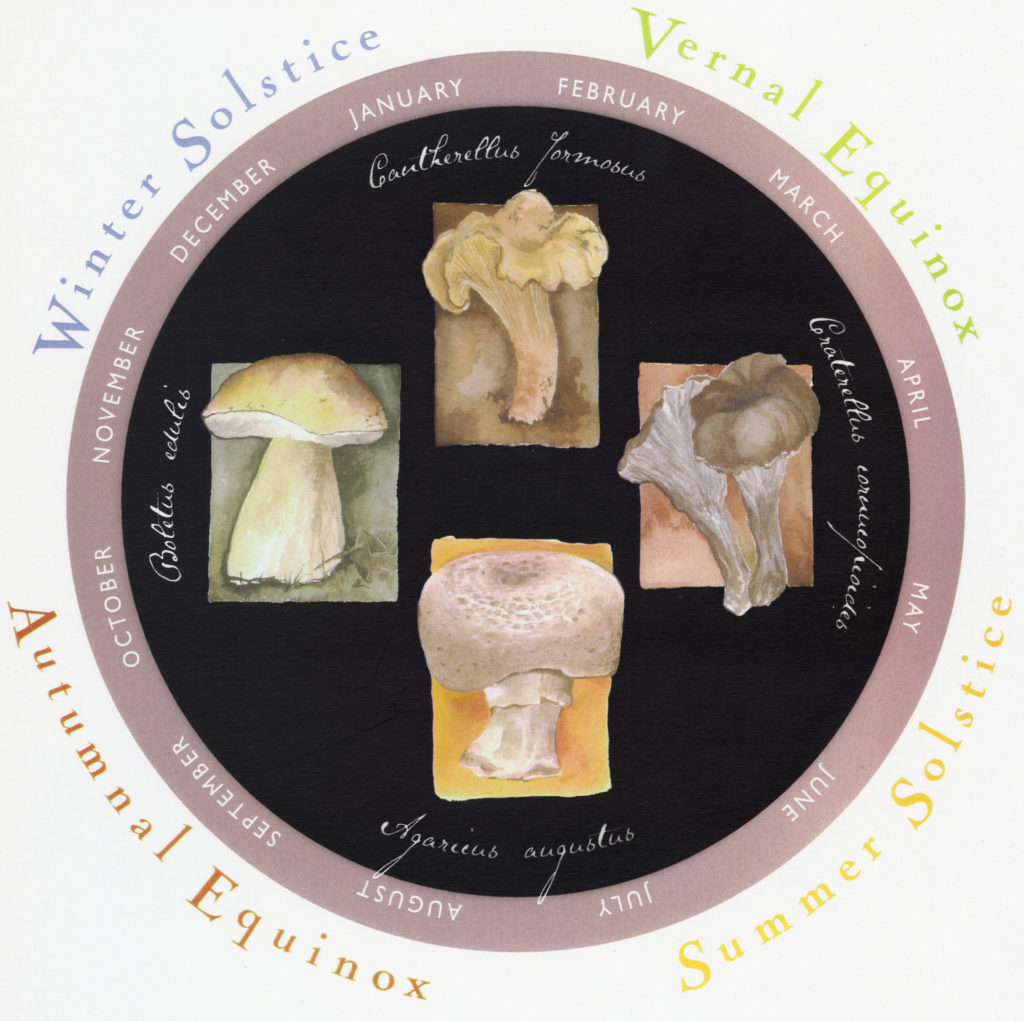 Today her career continues to bring together these interests: on the one hand she teaches illustrated watercoloring journaling. Her own journaling entries are stunning. She loves to see people become more excited and aware of the world as they build the confidence to draw it. On the other hand, she and her business partner Holly Reed run an interpretive design firm called Wildways Illustrated. You can see their work all over the state, but locally they've contributed to signage and exhibits at places like Natural Bridges, Ano Nuevo, and the Boardwalk. She's excited to be working on a welcome panel for Henry Cowell, where park staff made sure to request a turkey tail fungus (Trametes versicolor) as a primary feature.

For the next two months, these posters and others from the history of the Fungus Fair will be displayed alongside a riveting traveling exhibit. We are excited to be hosting Mushrooms: Keys to the Kingdom Fungi, an exhibition developed by Jennifer Jewell and John Whittlesey.