This recipe is part of our series On the Rocks: Exploring Science and Nature through Curated Cocktails.
In works of art, macabre refers to a grim or ghastly atmosphere. At the Santa Cruz Museum of Natural History, it heralds a season of oddities — when we turn our attention to the nooks and crannies of nature, looking for the strange, the puzzling, and the disturbing.
In honor of our annual event of creatures, curiosities, and cocktails, Museum of the Macabre, we're mixing things up with a special concoction to give you pause — and we mean that! This cocktail requires some toil and trouble, but it's well worth it in the end.
The Macabre Martini is a mysterious mixture, obscured by the darkness of a homemade sesame syrup. Another way to reach this deep black color is with activated charcoal, though you should look into the risks if you are on any medications.
Looking to add a little local flora to your cup? Substitute the crème de mûre with a homemade blackberry, elderberry, or black currant liqueur.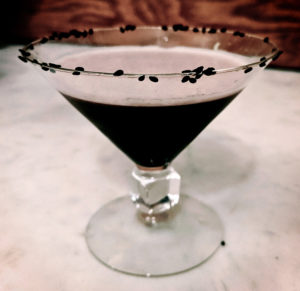 Ingredients
Macabre Martini:
1 oz gin
2 oz crème de mûre (or homemade berry liqueur)
2 oz black sesame syrup (see below for instructions)
1 oz lime juice
1 large egg white
Blackberries for garnish
Black sesame syrup:
1 cup black sesame seeds
3/4 cup sugar
1/2 cup water (or more as needed)
zest of half a lime
2 oz vodka
Instructions
To make the black sesame syrup:
Toast the black sesame seeds in a saucepan over medium heat for about 2 minutes while constantly moving them around in the pan. Remove from heat and allow to cool.
Blend the seeds in a food processor, coffee grinder, or blender until they are a powder and set aside.
Put the sugar, water, and lime zest in a small saucepan and bring to a low simmer, stirring until the sugar has dissolved.
Add the black sesame seed powder and bring to a boil. Let bubble for 2 minutes.
Remove from the heat and leave to cool completely.
Strain through a fine mesh sieve, and then again through cheesecloth, so you have a smooth and thick syrup. This is the trickiest part!
Stir in the vodka. It will keep in the fridge for up to three months, so feel free to make this part in advance.
To make the Macabre Martini:
Line the rim of a martini glass with leftover sesame seeds by first running a lime wedge around the edge and then dunking the edge in the seeds.
Put all the cocktail ingredients in a shaker and shake vigorously for 60 seconds.
Add three ice cubes, and shake again for 30 seconds or until cocktail feels cold through the shaker.
Strain into a martini glass.