Patricia Larenas loves seeds. With a background in horticulture and art, her work aims to inspire appreciation for this life stage of plants. She also works directly with seeds, helping others grow edible gardens and save seeds. This project explores the germination and growth of a Hopi red lima bean (Phaseolus lunatus). The following is written by Patricia.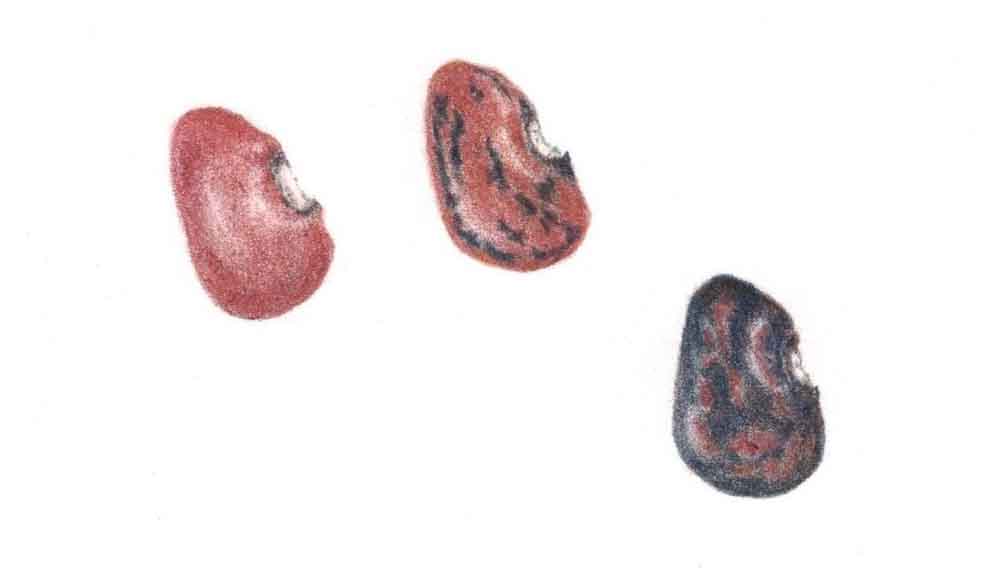 Genetic Diversity
I've drawn three beans to show the diversity of the seed coat color: 1. solid red-brown, 2. red-brown with dark streaks and spots, and 3. mostly dark with red-brown streaks and spots. The diversity in color of the beans is an indication of the genetic diversity in this variety. This is an advantage because genetic diversity means that this bean could have more ability to adapt to different environments.
For example, lima beans usually like to grow in hot areas like the Southwestern and Southern USA . My garden in the Bay Area is cooler than those areas, so with its ability to adapt, this bean may do just fine in my garden under cooler conditions. By growing it for a few years and saving seeds from the most vigorous and productive plants, I can create my own land race that is adapted to growing well in my area.
Germination
All viable seeds are alive. By viable I mean they have the ability to grow once they germinate. Conditions that kill seeds are: exposure to warm or hot temperatures, old age, exposure to light, humidity that can cause mold to grow or seeds to rot, and diseases. Seeds can stay dormant, but alive, while they are waiting for the proper conditions that will induce them to germinate. Germination is the process by which a seed begins to sprout and develop into a seedling. The proper conditions for seeds to germinate vary greatly for different types of seeds and they have to do with temperature, moisture, and exposure to light or darkness. Additionally, some seeds need a period of exposure to cold, usually about the temperature of your refrigerator (called stratification) before they germinate. This could be from a few weeks to a few months. Other seeds need to have their seed coats abraded or damaged (called scarification) a bit so that moisture can penetrate to begin the germination process. Vegetable seeds rarely need stratification or scarification, but some flower seeds do.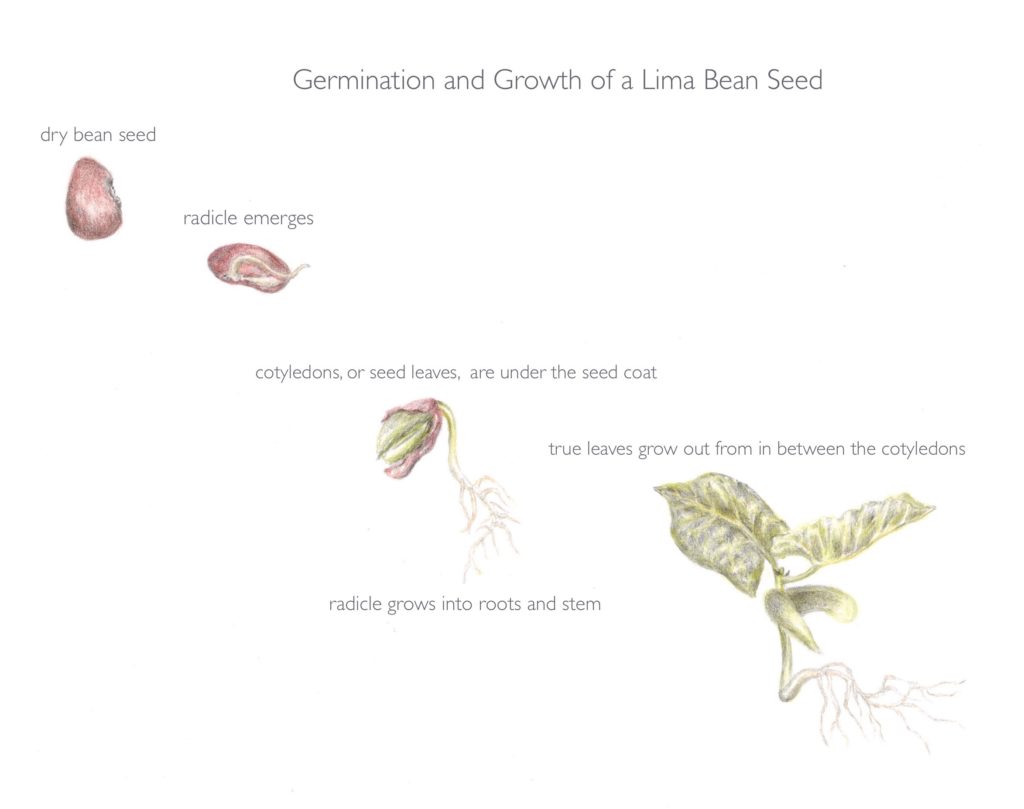 Bean Seeds
Lima bean seeds need soil temperatures of at least 750 F to germinate (up to 900F), besides moisture (water). As shown in my drawings, first, the root radicle grows out of the seed, and the seed coat begins to retract as the bean swells with growth. The seed leaves, or cotyledons, are the two halves that make up the bean seed, these start to open up and the true leaves grow out from in between them, while the radicle develops into a stem and roots. The little seed is now a seedling ready to grow into a full sized plant that will flower and make lima beans!
Patricia Larenas is a featured artist in the 2020 exhibition of science illustration, The Art of Nature.
Find Patricia's art on Instagram @plarenas_onpaper
See her website for tips on growing your veggie garden and saving seeds http://www.urbanartichoke.com/