Member events provide our supporters with behind-the-scenes opportunities to connect with the Museum. Join our family of Members to receive invitations to Member events and other benefits. Contact us at (831) 420-6115 x14 or development@santacruzmuseum.org for assistance.
UPCOMING EVENTS
---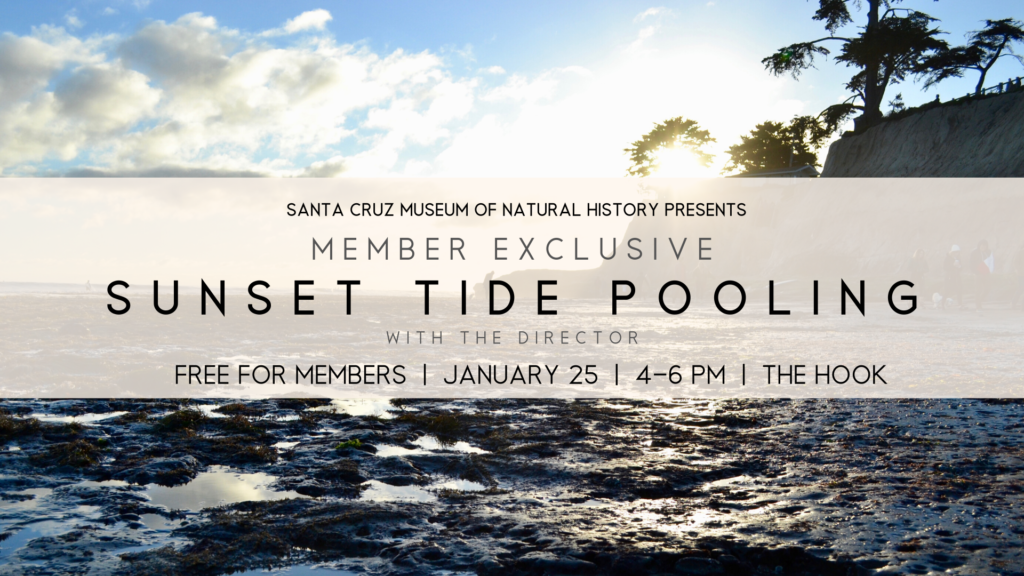 Sunset Tide Pooling
Saturday, January 25, 4:00-6:00 p.m.
Free for Members. Pre-registration is required and space is limited. All ages are welcome.
Museum Members are invited to join our Executive Director Felicia Van Stolk for a special sunset low tide at the Hook. Felicia is a marine biologist and environmental educator who loves connecting people with our ocean ecosystems. We'll provide tools for close examination of the organisms that we discover as well as best practices for exploring the intertidal zone.
Things to note:
Potential challenges and things to look out for when exploring the tide pools include unexpected waves, slippery rocks, potentially wet feet, and very likely cool weather.
Little ones may need to be carried at times, and it is best to stay very close. We will have a large age-range in the group, so not all of the information will be directed for children.
Wear shoes that you don't mind getting wet and warm layers!
Meetup information will be shared upon registration.
Register online HERE.
---
Don't currently meet these criteria? Join, renew, or upgrade your Museum Membership today!
Questions may be directed to development@santacruzmuseum.org or (831) 420-6115 x 15.