Call For Entries
This spring the Museum will feature Bay Area artists who excel at the art of scientific illustration, for our long-running exhibit The Art of Nature.
Artists may submit up to 3 pieces that fit the definition of science illustration:
Artwork in the service of science, which creates images of organisms or processes that teach, inform, and create an understanding of our world.
Submit Entries HERE.
---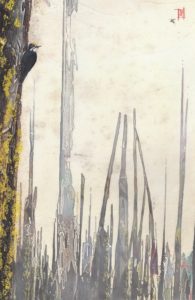 Eligibility
Open to Bay Area residents, 18 years old or older.
Calendar
January 31: Submissions due

February 7: Artists notified about submissions

March 23: Artwork Dropoff/ Exhibit install

March 27: Artist/Museum Member Opening Reception

May 31: Exhibit Closes

June 1: Artwork pickup
Exhibit Design, Construction, and Installation
The Museum will prepare and provide wall space, and hang the show. The artist must provide framed artwork that is wired for hanging, the exhibit elements will be created off site by the artist and brought to the Museum on or before the installation window.
Compensation
The artist will complete any research, design, art production and installation as a volunteer and will not receive compensation for the exhibit. The Museum will not broker the sale of any artwork on the wall and labels may not include prices. However, the Museum will provide business cards to interested parties as requested, and keep a price list at the Front Desk. Consignment prints or cards may be sold in the Museum gift shop- the Museum will retain a 25% consignment fee on the sale of all items and will return unsold items along with a check for consignment sales within 30 days of the close of the show.
Ownership of the Exhibit
Ownership of the artwork will remain with the artist. 
Publicity 
The artist will provide promotional images for advertisements and press, if requested. The Museum shall have the right to photograph and/or reproduce artwork in full or in part for educational, or publicity purposes, including social media. Use of images for promotional purposes will credit the artist. The Museum will cover expenses associated with First Friday fees, the reception, and all related promotion.
Disclaimer/Legal
The Museum assumes all responsibility for the protection of artist's work while on exhibit.
---
Submit Entries HERE.