As a young undergraduate, I fell in love with science when I first learned to read rocks. There was something so amazing to me about being able to examine a cliff's rocky layers and to use my knowledge of geology and paleontology to reconstruct the story within them. That revelation opened a whole new world to me—one brimming with stories to learn. Mountains told of tremendous uplift in their folds and faults. Fossils told of ancient oceans now far from any shore. Throughout its long history, our landscape has seen many changes, some dramatic, some minuscule; and the field of geology helps us to interpret those patterns and their underlying processes, thereby revealing the stories within.
While our Museum often focuses on the biological aspects of natural history, we are also proud to showcase our region's geologic history. Our permanent exhibit on the geology of Santa Cruz County introduces visitors to our region's common rocks and fossils, such as the large sea cow discovered in Zayante. This month, we will focus on geology through a special new exhibit and several great programs.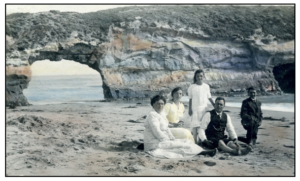 On Friday, October 6, we welcome the opening of the Rocks and Waves exhibit designed by Visiting Curator Frank Perry. Open until February 4, the exhibit explores the natural bridges and arches that once were so prominent along West Cliff Drive, where now only a few remain. Geology lies at the heart of the story told through the exhibit's historical photographs of our past iconic coastal features. Frank will give a special Naturalist Night talk on November 9 to discuss how our local cliffs have changed over the years and why. His talk also will explore how this new exhibit came together, starting in the early 1980s with a budding fascination of old photos featuring the coastline along West Cliff Drive.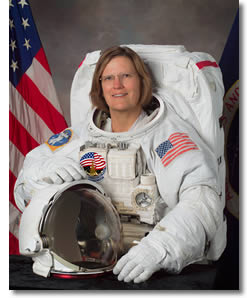 Geology also served as inspiration to the next speaker in our Rio Theatre Speaker Series, Dr. Kathryn Sullivan, the first American woman to walk in space and the only woman astronaut to explore the deep ocean in a submersible vessel. Dr. Sullivan graduated from UC Santa Cruz with honors in Earth Sciences and a focus on geology, later using that training to become a renowned oceanographer and astronaut. She will give a talk called "From the Sea to the Stars" at 7 p.m. October 11, and tickets are still available at santacruzmuseum.org.
One of the inspirational figures in Dr. Sullivan's early education was Dr. Gary Griggs, a coastal geologist who will introduce Dr. Sullivan at the Rio Theatre. He and Frank Perry were the first two recipients of the Laura Hecox Naturalist Award honoring our Museum's founder and our mission to connect people with nature and inspire personal stewardship.
We hope you will join us for the Kathryn Sullivan talk and check out the Rocks and Waves exhibit. Also, please stop by the Museum soon to see parts of our geology collection, including rocks, minerals and fossils specimens.
I hope to see you soon at the Museum.
Thank you,
Heather Moffat McCoy
Executive Director