Fossils tell the changing story of life on earth over millennia – but they can also tell stories of more recent changes. For this month's Collections Close-Up, we look at an ancient specimen and its deep timeline, as well as a more modern, local legacy of integrating paleontological adventures with educating young minds.
The above fragment of a leaf-imprinted shale is a small slice of the Monterey Formation, an olive-gray to light-gray layer of shale and mudstone that underlies swaths of the Santa Cruz area. This formation, rich in once-organic material, was formed during the Miocene. Defined as the period of time between 5.33 and 23.03 million years ago, the Miocene was a period of great change for earth's ecosystems. The earth's ecosystems became cooler and drier, and animals like horses began to look more like they do today. And while there is much to explore in the world of Miocene mammals, this period also saw the first emergence of kelp forests and grasslands.
As distant as it may seem, you can explore the way the Miocene shapes present day places such as the Monterey Formation mudstone of Ano Nuevo Point or the ancient ocean beds that are today's unique Santa Cruz Sandhills. Exploring these landscapes is a great way to observe stories of ancient life. In some places it is also possible to collect elements of these stories, as long as you maintain a responsible collecting ethic: research and follow the local laws, and consider the specific concerns of paleontology ethics.
This month's feature was given to the Museum in 1974, where it is preserved alongside several similar specimens collected by high school students, who were led in their own exploration of ancient local life by teacher William Miller. Bill, as he was also called, was an earth sciences instructor with an active local presence in organizations like the Museum Commission, the Boy Scouts, and the Gem and Mineral Society. His passion for promoting public understanding of science made him a common feature in the local papers in the 1970s, speaking about fossil whale finds and similar spectacular local fossils.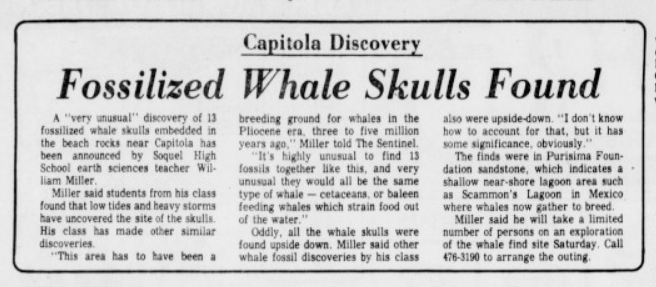 Miller's former students have fond memories of his classes, including his classroom's improvised paleontology lab and how it helped them wrap their head around the history of the earth. But he was also a big believer in teaching beyond the classroom. Miller organized frequent field trips across the Santa Cruz County landscape for his students to learn firsthand about geology, paleontology, and even litter.

Oftentimes it is the eye catching creatures, like the whales and sea cows of ancient Santa Cruz oceans that capture our attention more than the subtle beauty of a delicate leaf impression. Another educator who has long been involved with the museum can speak to that as well – Wayne Thompson is a local middle school teacher, and paleontologist who helped prepare our stunning mastodon skull for exhibit in the early 1980s. His interests in science were encouraged by his education, and in particular, his teacher Bill Miller. Today, Wayne carries forward this legacy of connecting kids to science through paleontology – brimming with contagious excitement, he's always happy to help the Museum, and always looking for ways to get his students involved in his paleontology projects.
He's particularly keen to explore how new tools, like virtual field trips and 3D scanning technologies, can get folks excited about fossils and other topics. Now that health precautions have moved many schools into virtual mode, the enthusiasm of teachers like Wayne for experiencing new tools is even more critical. To dig deeper into what we can learn from the Museum's fossils, and to explore how one of our county's teachers is meeting the challenges of virtual education in uncertain times, check out this month's Collections Close-Up event.
Explore geology and paleontology with items from our Online Museum Store.
Learn more about geology with our Rockin' Pop Up programs.