The barnacled bodies and heart-shaped spouts of gray whales (Eschrictius robustus) are a welcome sight as they migrate through the Monterey Bay, routine visitors renowned for their deliberate and friendly curiosity towards humans. As one of the three most commonly seen whales along the Central Coast, it can feel surreal to reflect on how recently, and how close to home whales were last commercially fished in the United States. To the whaling industry, these amiable animals earned the nickname "Devil Fish" for their robust aggression in the face of harpoons. But since the U.S. officially outlawed commercial whaling in 1971, these behemoths earned a more gentle reputation, and their populations have stabilized in response to a wave of conservation efforts in the 1970s.
Against this backdrop of accelerating whale conservation, what was then the Santa Cruz City Museum was delighted to host an exhibit by General Whale. The brainchild of artist Larry Foster, who was known for his pioneering efforts to accurately portray whales, General Whale harnessed a blend of art and science to get folks excited about cetaceans. It was through two temporary exhibits in 1977 and 1979, that the Museum memorably hosted two titanic visitors: the ferrocement statue of Sandy the gray whale, who found a home at the Pacific Grove Museum of Natural History, and the fabulous fiberglass form of Pheena the fin whale, who landed at the Lawrence Hall of Science.
Wherever these whales went, they were a hit, and Santa Cruz was no exception. It didn't take long for city and Museum staff and volunteers to hatch plans to acquire Santa Cruz's own whale statue. The vision was to make a ferrocement gray while like Sandy, but rather than build the statue in separate chunks that could be easily relocated, this permanent structure would be built with a single wood lathe frame, encased in a layer of cement-coated wire mesh. The City Museum community was keen to provide a forever home to a public art piece that would simultaneously provide opportunities for play and learning.
From a wildly-popular lecture series to well-attended walkathons, the whale-wishers put their money where their mouth was, raising thousands of dollars in collaboration with the City to get the whale built. Starting in spring of 1982, City Museum newsletters began bursting with the names of individuals (including former staff member John Anderson) and activities dedicated to getting the community on board the whale ship, as it were.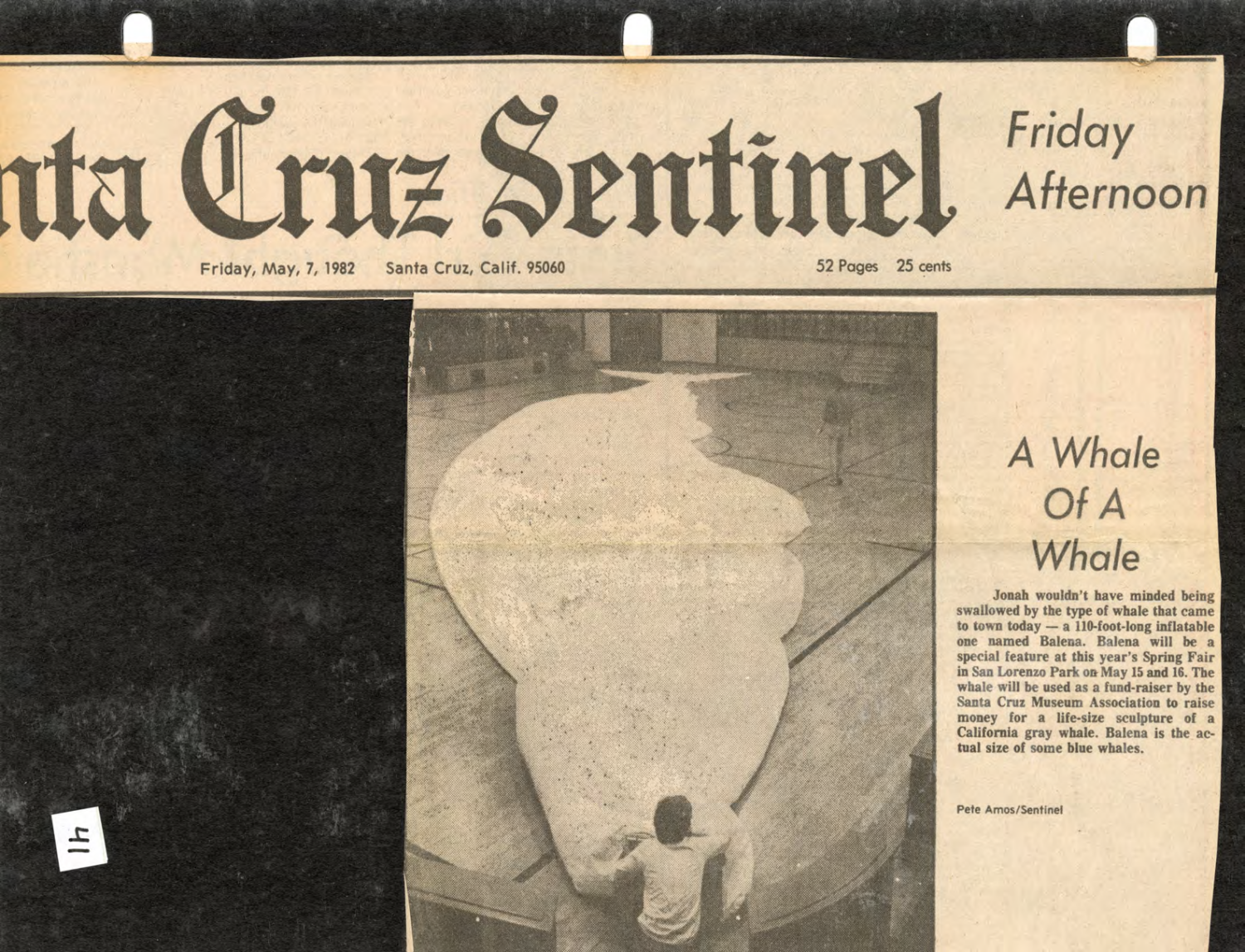 An important aspect of this campaign was activities designed to get people thinking at the scale of whales — like assembling a ten foot whale skeleton, or wandering around inside an inflatable 110 foot long blue whale model. Connecting folks to a life-sized gray whale statue was a key component of the important ways that this statue was always intended to act as an educational exhibit for park-goers of all ages — in the words of City Museum leadership, the whale would be a visible symbol of the Museum's purposes. The whale campaign raised more than funds —it also expanded community awareness of the Museum's mission to connect people to nature.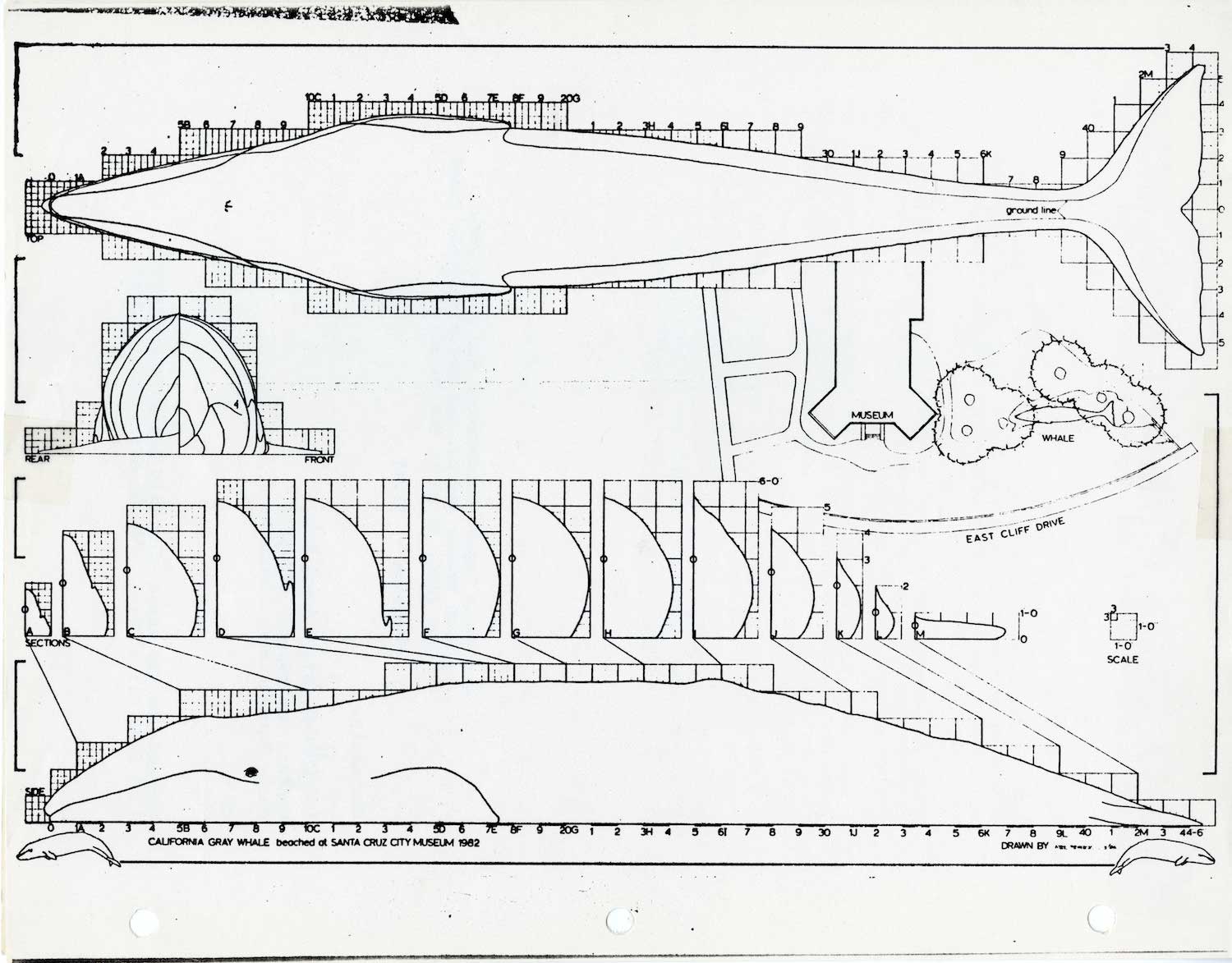 Construction of the gray whale statue, carried out by local ferrocement boat builder Al Hipkins in consultation with Larry Foster, culminated in the statue's dedication on October 16, 1982. While the well-loved whale has been refurbished throughout its life, it continues to provide community and connection from where it rests in Tyrrell Park. The Museum (an independent non-profit since 2008) proudly continues to partner with the City in the stewardship and care for this remarkable statue. This October, we hope the friendly face of the gray whale statue lures the marine-curious beyond the park and into the depths of our special Maritime Mysteries and Monsters exhibit, which will further explore oceanic phenomena, marine science, and the complex relationships between humans and the sea.