If fungi had a poster child, who would it be? A classic red capped amanita? Or maybe an exuberantly golden chanterelle? Or maybe, just maybe, it would be one of the eclectic cast of characters that has periodically adorned Fungus Fair flyers from as far back as the 1970s!

Centered in a square frame, a grasshopper (or another member of the family orthoptera) leans an "elbow" onto a table piled high with vibrant fungal forms, reaching lazily towards this treasure trove. Nearby, what appears to be an excited alligator lizard is poised to pop a mushroom in it is mouth. It's a homey scene, but unlikely beyond the goofy trope of animals at a table. While grasshoppers, who prefer leafy green meals, will turn to fungi for food, alligator lizards might likelier eat their fellow fair guest!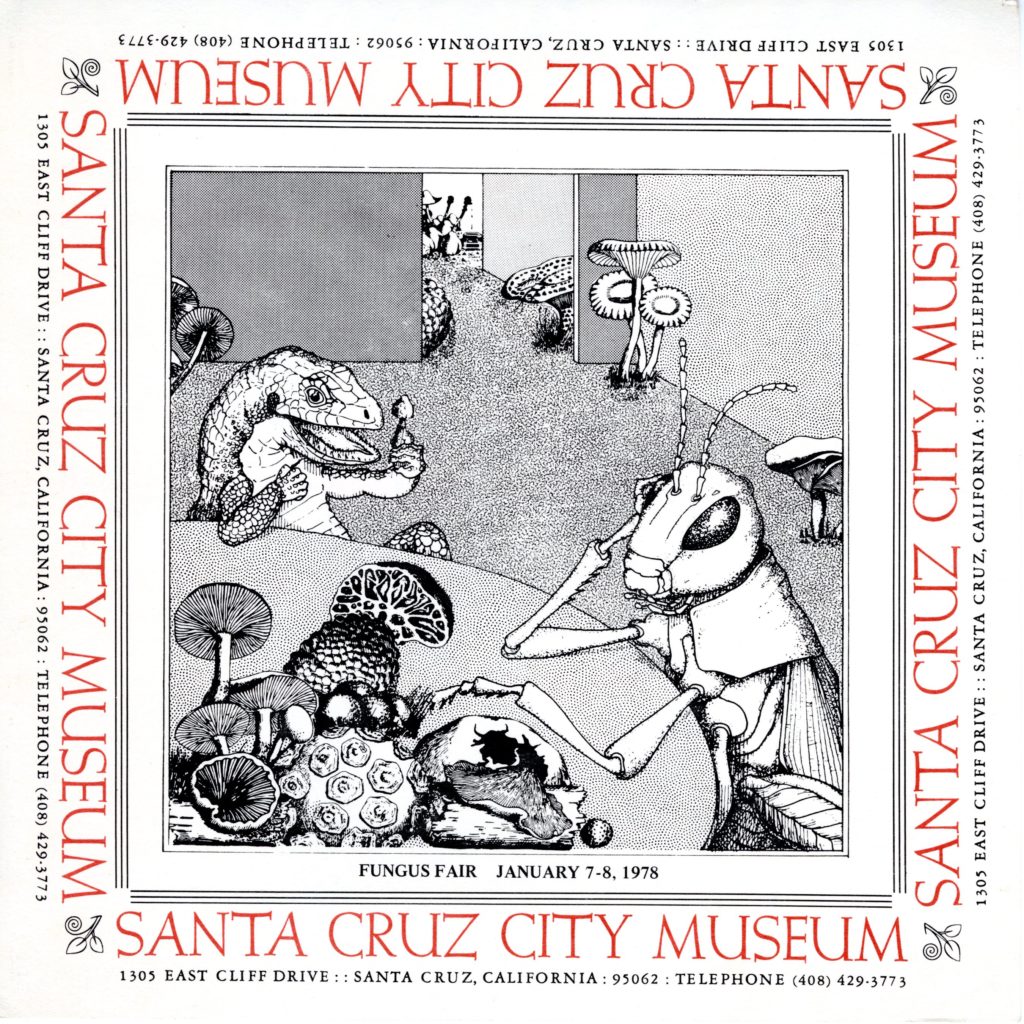 Zooming out, these whimsical Fungus Fair attendees are in a series of rooms full of fungi. The specimens appear to be planted into the floor, recalling the elaborate dioramas of the fair, where a visitor might wonder how they walked through the doors of the Louden Nelson Center and found themselves in a forest. And while these elaborate displays have been an iconic part of the event, it hasn't always been held at Louden.

In fact, the first festival was held in 1974 here at your favorite local natural history museum, then called the Santa Cruz City Museum. From the beginning, it featured more than 150 varieties of wild native mushrooms, displayed in those trademark habitat dioramas with detailed identifications. Originally a joint project of the Museum, mycologist David Arora, and enthusiastic community members who would become the Fungus Federation, the event quickly grew to thousands of guests. There were even years where the very rains that supported fungal growth would cancel the tables and activities that had to spill out into Tyrrell Park.

Looking for more space, the fair moved around and eventually settled at Louden in the 1990s. In describing the choice of venue, longtime member and mushroom identification instructor Phil Carpenter pointed out the value of not only having more space, but of having a facility where the Federation could begin setting up displays many days ahead of time. This extra time is a critical requirement for specimen preservation and display, as Federation members are called upon to gather various specimens in the days leading up to each year's fair. Dive into years of the Fungus Federation's digitized newsletters for more on the nuts and bolts of everything from fair set up to making that ideal chanterelle pasta.

This shared history is one of the reasons why our own archive has so many Fungus Fair treasures. Another reason is the treasure who was a longtime volunteer, Pat Smith. Building on last month's close up, the people behind these posters weren't always science illustrators – sometimes they were silkscreening powerhouses!

Pat and her husband Kirk Smith arrived in Santa Cruz in the mid 1970s after serving in the Peace Corps. Some of their adult children had established roots in the community, and they soon followed suit. One of the organizations they both cared a great deal about was our little museum. Pat gravitated towards active and tangible ways to support her causes – she would rather be printing t-shirts and flyers for the gift shop than serving on a board. And make them she did – for countless events ranging from public festivals to staff birthday parties.

Her daughter and current board member Laura Smith remembers Pat's constant outpouring of creative activity over the course of a lifetime – from making linocuts with one of her small daughters, to teaching underserved students sewing and photography after her own kids had grown up, to turning part of the couple's Santa Cruz home into a silkscreen studio. If you stopped in at Pat and Kirk's for a visit, and mentioned you liked frogs, Pat would jump at the chance to invite you into the darkroom to make yourself a frog t-shirt.

You can see one of the screens used to print our fun fungi dinner guests, as well as different iterations of posters, mailers, and even aprons featuring this design on display this month at the Museum. And you can find more fungi images and interactives as part of our final month of the visiting exhibition Mushrooms: Kings to the Kingdom Fungi.