Grass gets a lot of attention for being green, but in California it can be gold, blue or even purple! While rolling golden hills are synonymous with many mental pictures of California, that gilded landscape is overrun by non-native species. In fact, the grasslands that cover almost a fifth of the state are dominated by plants from elsewhere. Despite this, California's grasslands remain a biodiversity hotspot, with an immense variety of native grasses coexisting with other flora and fauna. One such species is the star of September's close up: purple needlegrass or Stipa pulchra, California's State Grass.
A perennial bunchgrass, purple needlegrass grows as a dense clump with tall stems that can reach higher than three feet. When it flowers in spring, these stems are topped by wispy, branching flowers. These give rise to the striking purple and red-tinged fruit or grain for which the plant is named. The grass then produces seeds that are pointed in shape with twisting bristles which act as a self-sowing mechanism, helping them to self-bury in the bare earth around the base of the mature clumped plants. Their far-reaching roots can dig down an impressive 15 feet or more into the soil, supporting the plants over a lifetime that can extend beyond 100 years.
While we've learned a lot about these plants, some things are still hard to know – like how widespread purple needlegrass actually was before the disruption of California's native ecosystems. Beginning around 250 years ago, early colonists brought various changes, ranging from accidental arrivals like seeds caught in clothing to intentional alterations like the planting of new grasses for grazing cattle. In many cases this led to the introduction of non-native grasses that out-competed locals like purple needlegrass.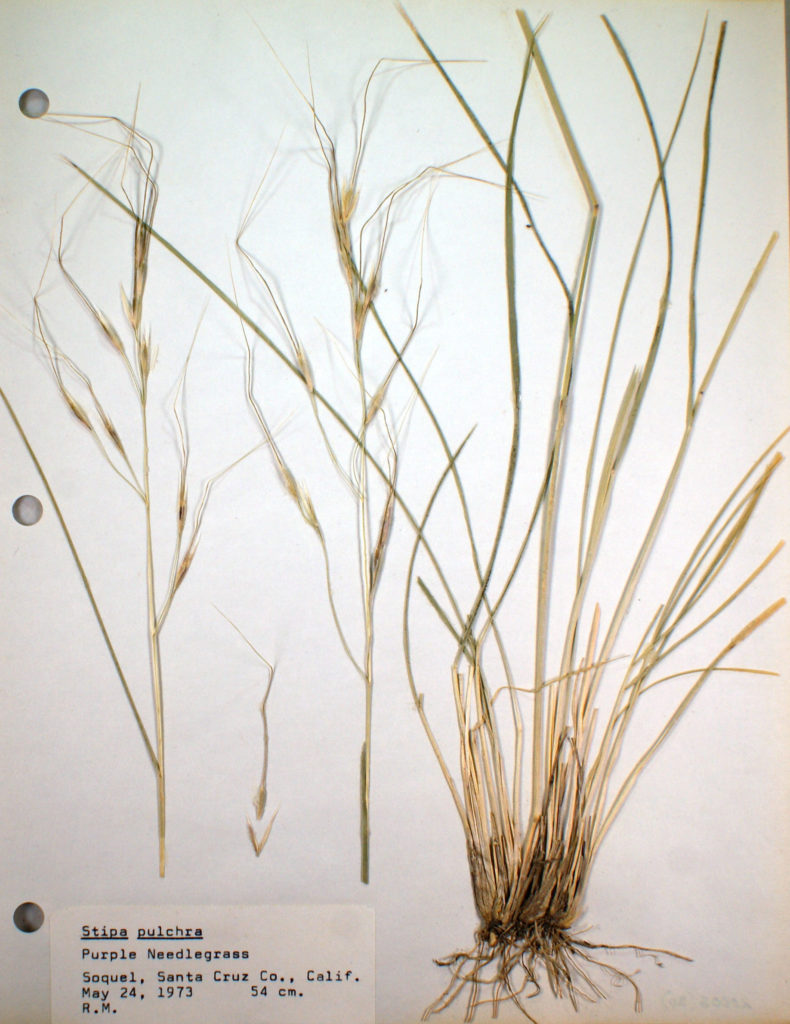 As we strive to understand our environment, its changes and challenges, it is critical to document species through observation and collection. This individual specimen is a window in time to the hillsides of Soquel in 1976, where it was collected by the late Randy Morgan. Beloved naturalist and teacher, Morgan was a life-long champion of Santa Cruz's rich biodiversity heritage.
Purple needlegrass itself promotes biodiversity in a number of ways! For example, the seeds it produces, up to a whopping 227 pounds per acre, feeds a host of grassland animals. The grass itself is foraged by native ungulates like tule elk, mule deer, and pronghorns. The clumped shape of bunch grasses creates space for a whole slew of flowering plants and pollinators. Those deep reaching roots help fight erosion, maintain soil moisture, and support the growth of young oak seedlings.
Some of these same attributes that support a rich and interconnected community are also part of what makes purple needlegrass fire resilient, a hot topic in the minds of Californians everywhere. The grass' clumping nature creates a discontinuous fuel pattern in the path of a fire. The long, water—grabbing roots of these grasses means they dry out later in the summer, making them less likely to burn during during large portions of fire season. Sadly, these benefits are often overwhelmed by the widespread presence of continuous golden carpets of shallow-rooted, invasive grasses that dry out earlier in the year than many indigenous species.
Grasses are only one of the many ingredients in the making of a California fire. For a rich discussion of fire ecology across the history and future of California, check our our upcoming panel discussion, California on Fire on September 19th. To dig in to California's native plant communities, check out the local California Native Plant Society or garden with us at the Museum's twice monthly Saturdays in the Soil. And now through the end of September, check out the fine details and striking hues of our preserved purple needlegrass, on display at this month's Collections Close-Up exhibit.