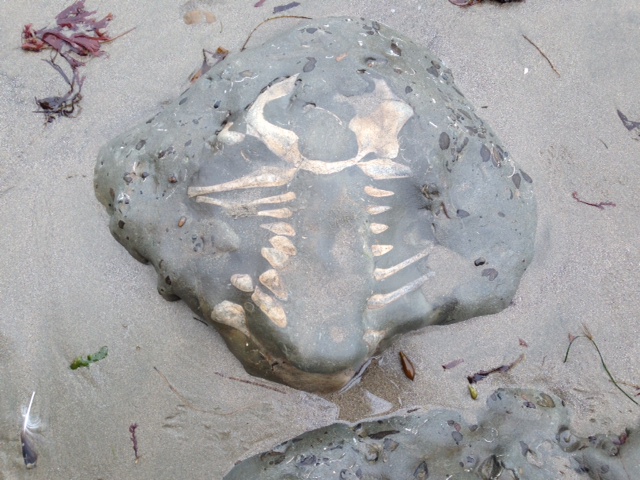 so you found a fossil. now what?
People find fossils in Santa Cruz County all the time! Some of these objects are important for research, while others are best left as part of the landscape. This guide will help you decide what to do when you find something during your outdoor exploration.
Where can I find fossils?
We live in an area with amazing fossil diversity. The beaches of Capitola and Aptos are great places to easily spot fossils, especially at low tide. Explore our guide to the fossils of Santa Cruz County.
May I collect fossils?
Always know before you go when collecting. Determine whose property you are on and what their rules are for collecting. Generally, collecting fossils is not allowed on most public land.
Vertebrate fossils (including all mammals like whales and mastodons) are protected on all public lands and require a permit for collecting. In California, plant and invertebrate fossils on non-federal public lands are also protected. This means that you are not allowed to collect fossil shells embedded in rock from Capitola and Aptos beaches without first getting a permit from the appropriate agency (either County or State Parks).
But should I collect fossils?
In addition to knowing if you are legally allowed to collect, consider that when you collect an object, you are removing it from its context — without good data, it's unlikely that specimens can be used for science. Every specimen collected from nature impacts the surrounding ecosystem which is why certain species and properties are protected.
If you find something interesting, rather than collecting it, you can leave it where you found it, take a picture, and notify the agency whose property you are on and/or the Museum. Fossil shells around Capitola are incredibly common, but if you find something unusual that doesn't seem to be commonplace, it might be worth getting in touch with us.
May I bring my fossil to the Museum?
If you've found something that you would like us to take a look at and help you identify, take a photo and send it to collections@santacruzmuseum.org. Be sure to include something for scale and mention where you found it. The museum cannot physically accept objects without prior consent. If you're interested in donating your specimen to the Museum, our collections staff will need to first assess how it fits within our collections policy.
Why are museum collections important?
Our Museum has a long history of working with collectors to preserve important objects for research and education. Our founder, Laura Hecox, was an amateur collector who grew up on West Cliff Drive, collecting fossils, shells, and other objects that captivated her attention. Over time, she worked with scientists who even named new species after her, and donated her vast collection to the foundation of Santa Cruz's first public museum.
Many of the objects in our collections were found by community members while exploring nature. The first mastodon specimen recorded in Santa Cruz County was discovered by 16-year-old Jim Stanton while exploring Aptos Creek in 1980.
When collections are brought to museums, they are able to benefit whole communities through research, education, and accessibility.
---
Other Resources
Articles about our fossil collections
Watch lectures
Learn about local paleontologists
Books and academic papers
Online resources
Fossils on exhibit at the Museum