Meet Megan Gnekow: artist, naturalist and volunteer. If you haven't met Megan at one of our past events, where she has introduced many of our guests to the world of scientific illustration through in-person demonstrations, then you've likely seen her work in The Art of Nature. Her pieces feature flora and fauna found throughout California, and often depict the ecological relationships that tie them together.

From great blue herons and the cattails they wade through while hunting stickleback fish, to California condors and the mammals they return to the carbon cycle through scavenging, Megan's work showcases natural beauty while upholding scientific accuracy. She holds a BS in Art: Painting, Drawing and Printmaking from Portland State University in Oregon, a Graduate Certificate in Scientific Illustration from the University of California, Santa Cruz, and has been a featured artist at our Museum for a decade.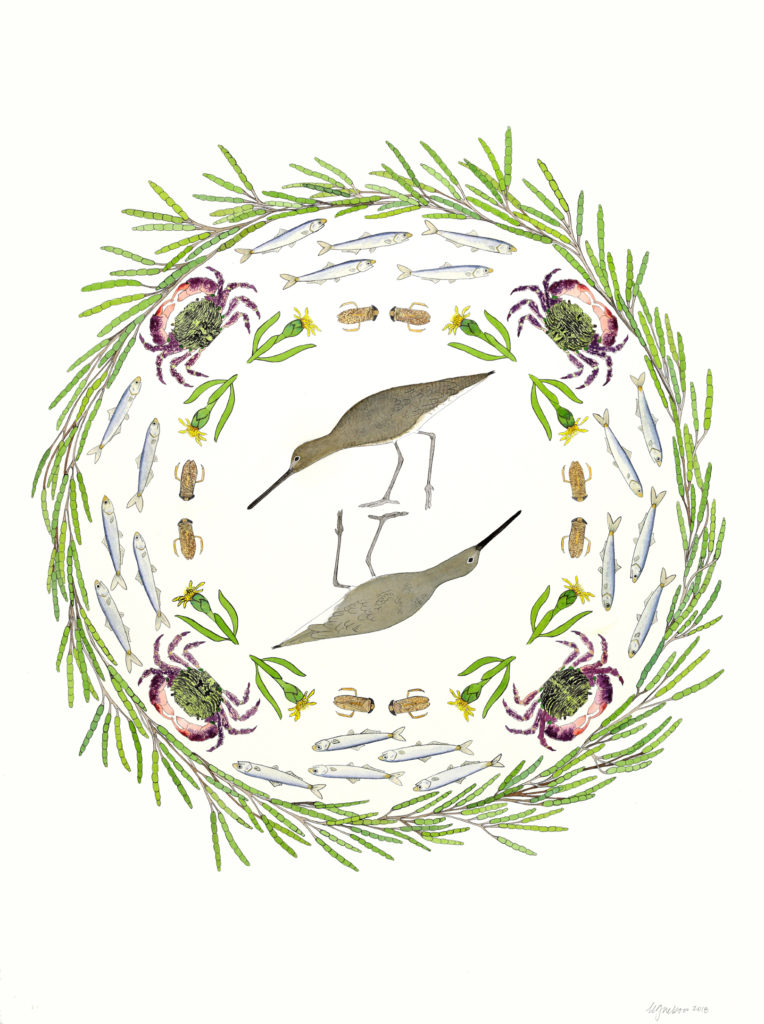 Megan grew up in a family filled with artists. She descends from seven generations who lived and worked in Santa Cruz, some who even lived on Wilder Ranch — her favorite park in the County — before the Wilder family.

She often uses taxidermy specimens to capture details that otherwise escape camera lenses and binoculars. When illustrating physical differences between condors and the other birds they're often seen alongside, for example, she once called on the Museum when in need of a golden eagle's large, taloned foot.

"I can find photos of heads on the internet. That's easy," she said, recalling the project for the National Park Service. "But feet — good, clear photographs that show exactly what a golden eagle foot looks like — those aren't so easy to come by." After a quick call, she was soon sitting on our floor in front of a golden eagle specimen with a sketchbook in hand.

She prefers to glean details and find inspiration from living creatures, however, and often does so through volunteering in wildlife-monitoring programs. From monitoring bats and birds to surveying butterflies and moths, she volunteers throughout Northern California, often in Pinnacles National Park.

"It's magical," she said, describing her recent residency in the Plumas National Forest, where she studied the leopard lilies, Sierra Nevada blue butterflies, mountain garter snakes and other organisms united by their connection to the wet meadows of the Sierra Nevada and Cascade Mountain ranges.

Scientific illustration offers a creative path to connect with nature, she said, allowing anyone to engage through thoughtful observation. Everyone can draw, she adds, with just simple practice.

"It's a totally different way of interacting with the world," she said. "You learn by watching a creature, looking at a plant and noticing things you wouldn't otherwise see when just walking by."

If you'd like to see Megan's artwork at the Museum, come see the 30th showing of The Art of Nature, currently running until June 2. Enjoy works from 30 scientific scientific illustrators, featuring organisms from almost all branches of life depicted in a wide variety of media.