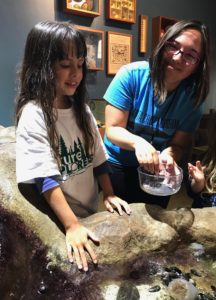 Meet Emily Harmon, a volunteer intern for the Museum's Summer Camps, which wrap up August 4. Emily grew up in Santa Cruz and is pursuing her undergraduate degree in history from Mills College in Oakland.
Visiting the Museum's Ohlone Room in the third grade made a lasting impression on Emily, and when she was seeking volunteer opportunities during her summer break, she thought of us. Since early July, she's been our Summer Camp intern, learning informal science education techniques and leading activities about ocean tides, pollination among Monarch butterflies, and fossil excavation.
"I wanted to be involved with the community and learn more about the Museum," Emily said. "It's been a really positive and fulfilling experience!"
Emily is one of about 85 regular volunteers at the Museum. Volunteers contributed more than 3,600 hours of service at the Museum in the fiscal year that ended in June.
Learn more about volunteering.