It has been over a month since the Museum closed for public safety, and the world is full of changes.
For many of us, this means reconfiguring our sense of community in a world of physical distancing and protective barriers. Although it is hard, community is about more than shared physical presence. Among other things, it is also about identity, common values, and a sense of history. For this month's collections close-up, we invite you to take a closer look into one such history – that of the museum itself.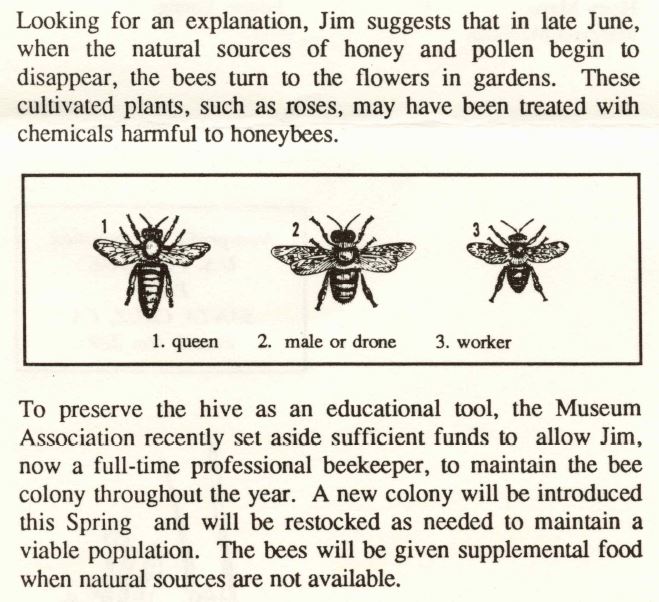 Building on last month's Close-Up, our commitment to digitization doesn't stop with our specimens. The story of keeping those things safe and making them accessible is as much about the keepers as it is about the objects themselves. We maintain an archive of documents, flyers, posters, pictures, receipts and records related to the history and happenings of the Museum and its keepers. This includes the forerunner of today's email: newsletters.
These physical, mailer-style newsletters, spanning decades from the seventies to the late aughts, paint a vivid portrait of daily life at the museum. There are postings for classes and lectures, announcements for exhibits and fundraisers, listings for volunteer activities and kids camps. And, perhaps most exciting to those of us of a collecting mind, recurring lists of specimens and objects accessioned by the museum in a given month.
Visitor Services Representative Mary Verutti is the Collections Department's guest star on this project. She is charting a path through the past by investigating the articles and advertisements for details that will resolve inconsistencies and span gaps of knowledge about both the Collections and the Museum itself.
Mary is a big fan of history, and the newsletters don't disappoint – she feels as if all the when, where, how and why of our Museum are in these pages. As our most veteran employee, she'd be the one to know! They even give glimpses into stories of other local institutions like Santa Cruz Surf Museum, where Mary also works. She especially enjoyed seeing continuities, like the establishment of our docent program, and evolutions, like the transition of our Illustrating Nature exhibit series into today's Art of Nature.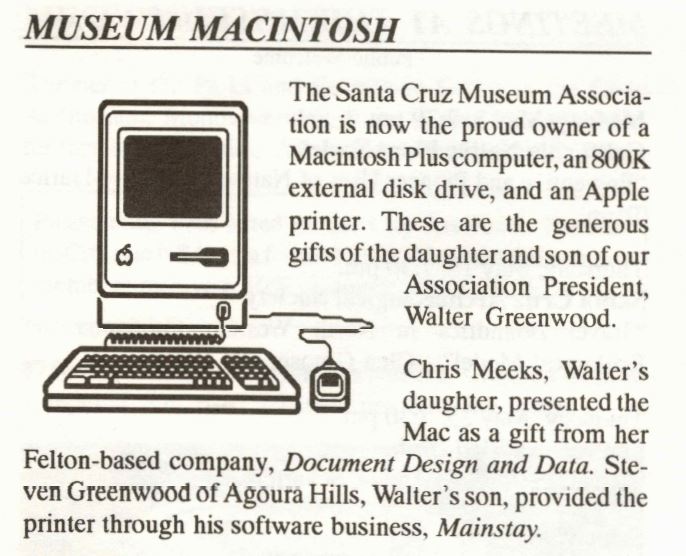 Name changes like this one can be a confusing part of reading primary documents, as Mary points out. In exploring these pages, one encounters a variety of names including the Seabright Museum, Carnegie Museum, City Museum, Whale Museum, Crafts House, Main Library Museum, Tyrell House – all used to describe our institution and collections in some form. Tracking name changes like this is not so different from keeping up to date on the changes in the scientific names of specimens – both tasks are an important part of maintaining good records.
These newsletters also attest to broader challenges in the Museum's history, including difficult economic times. Mary speaks for all us when she says that the Museum community's response to challenges never ceases to amaze her.
While we work to make all existing newsletter issues available online, we are providing a sneak peek here at some of the newsletters Mary is currently working on. In the spirit of International Museum Day (May 18th), find your favorite and share it with someone who, like Mary, finds the Museum to be an "easy place for a heart to land." For a more narrative take on our history, check out Frank Perry's history lecture or explore other posts here in the Collections Close-Up blog.