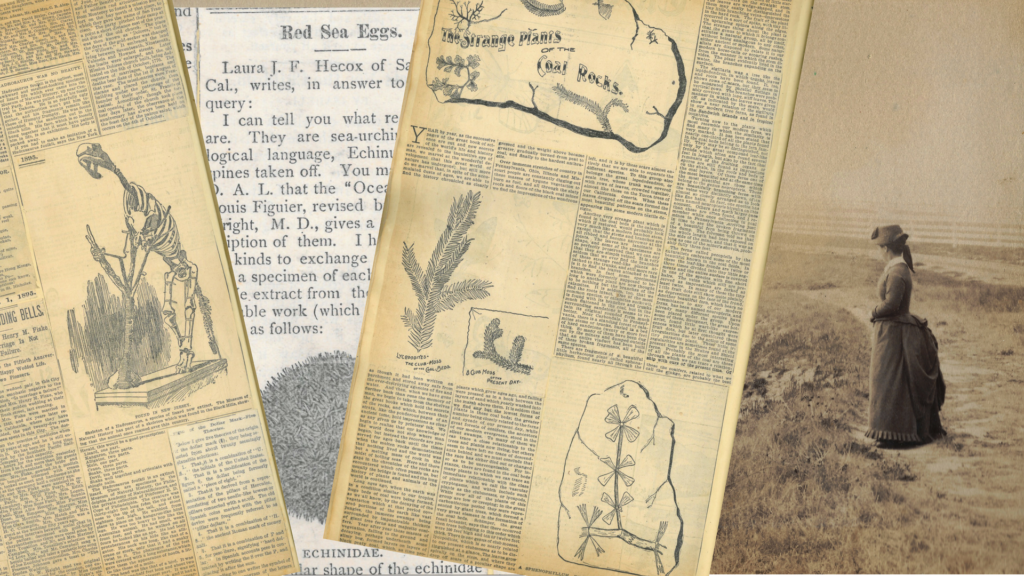 Our museum was built on the curiosity of a young girl. Our founder Laura Hecox's love of nature started when she was a child living at Lighthouse Point and continued throughout her life. Her fascination with the natural world led her to develop her collections which form the basis of our museum. These collections are a diverse assemblage of shells, fossils, minerals, cultural artifacts, and curiosities. Although we are conservers of Laura's collections, we know relatively little about the collector herself. While she left meticulously cataloged collections notes, she kept no known diary or personal correspondence. We do, however, have her scrapbooks. These treasured books provide a glimpse into Laura's interests and the world around her.
The Museum is currently undertaking a special project to learn more about the personal side of our founder: an online exploration called The Naturalist's Scrapbook. Our Collections Specialist Kathleen Aston, in partnership with the Santa Cruz Public Libraries, has designed this new online participatory project featuring one of Laura's original scrapbooks. By viewing digital versions of the scrapbook pages and identifying the topics, titles, authors and dates of its clippings, participants can help us to build a richer understanding of our museum's history, as well as the natural and cultural history of late 19th century Santa Cruz. The scrapbook pages provide a window into Laura's world and what was intriguing to her. Her interests on the page were just as diverse as her collections!
Over a century later, at the heart of our museum remains the same spirit of discovery and love of the natural world that Laura exemplified. All that we do through our programs and exhibits focuses on sharing the joy of discovery and growing that understanding and appreciation of the natural world that Laura valued throughout her life.
This month, we have a range of opportunities to engage your curiosity and inspire you to see nature in a new light. Tomorrow we are premiering our July exhibit in the Summer Art Series – "Brink: The Art of Conservation" by Diana Walsworth. Diana's show explores her love of the wild outdoors, using her unusual painting process of acrylics by sewing needle. Please join us for our First Friday opening reception tomorrow, July 5, at 5pm.
On July 18, our monthly Naturalist Night will discuss Sustainable Groundwater Management in Santa Cruz County . On July 21, we are hosting "Cyanotypes of the Sea", a photographic printing workshop focused on local algae. And on July 28, we are proud to partner with the Amah Mutsun Tribal Band on a guided walk exploring "Indigenous Land Stewardship at Quiroste Valley, Then and Now."
We hope you will join us for these great programs – whether at the Museum, out in nature, or online.
Best,
Heather Moffat McCoy
Executive Director