Laura Hecox: lighthouse keeper, collector, naturalist.
Photographer.
This January we piece together a richer picture of our founding collector by taking a new look at an old photograph. The image below depicts matriarch Margaret Hecox standing on the steps of the Santa Cruz Lighthouse in November 1887, accompanied by W.J. Morton and T.H. D'Estrella. We borrowed this picture from a descendent of Simon Hamer, Margaret Hecox's nephew, who received it years after having spent time living with the Hecox family in Santa Cruz. It is similar to an image the Museum already has, except for one critical difference: it is captioned.
In addition to providing the exact date, and clearly identifying the individuals in the photo, including "Mother', the final note of the caption, partially obscured by damage, reads "I took this photo".
We celebrate Laura's legacy and steward her personal collection, yet there is little documentary evidence of her life. Previous Collections projects have explored some of the precious few materials we have that were actually created by Laura – these include her catalog books and one of her scrapbooks. Our primary source of visual information about her life is a small collection of photographs.
Consisting of two sets of albums, these photographs depict various people and places around 1887 or 1888. These albums are where we derive most of our iconic images of Laura, tidepooling in petticoats beneath a natural bridge, or sitting on a cliff overlooking the ocean.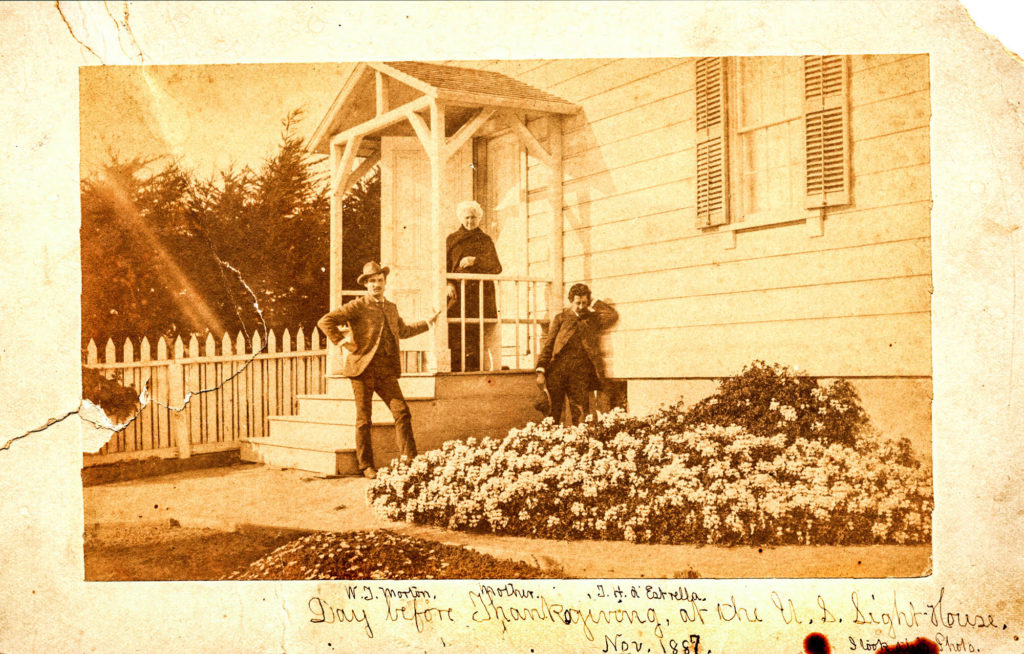 One album is inscribed "with Christmas compliments" from Hecox family friend and photography enthusiast Theophilus Hope D'Estrella. D'Estrella was a teacher at the California School for the Deaf, where he got the nickname "Magic Lantern Man" for sharing magic lantern slides of his travels into the Sierras and along the California coast with his students. The D'Estrella album includes pictures of parks and buildings in the Monterey and San Francisco bay areas, as well as the sculpture studio of D'Estrella's good friend and Laura's nephew, Douglas Tilden.
The other album, contained within the same type of mass produced "Album of Photographs" folio, is more Santa Cruz focused. Its many images include rocky coast and crashing waves, the lighthouse, and local park scenes. Few images depict Laura herself. Some of the images are explicitly attributed to specific photographers, many are not. For the most part, they are all captioned in the same elegantly looped handwriting that we find in Laura's catalog books and lighthouse paperwork. It also appears to be the same handwriting on the caption to Simon Hamer's photograph. In this caption then, we find Laura not just collecting specimens, corresponding with scientists, and keeping up with the current events, but also engaging with emerging technologies.
The first modern photographic image was Joseph-Nicephore Niepce's 1826 picture of a barn. Although the subsequent decades witnessed various innovations in the photographic process, it wasn't until the 1888 release of the handheld Kodak camera that the process was simplified enough for photography to become a widespread hobby. So in this photograph we are seeing Laura use a camera during a time when most photography was still the province of professionals. Prior to the context provided by this caption, we had no way of knowing that any of the photographs might have been taken by Laura herself.
It is exciting to understand Laura's active role in creating the materials we have in the collection, especially in light of the history of how her collection has been described. While today we often place her story front and center, historical accounts often attributed her collection to her father Adna, despite Laura herself deeding the collection to the city. Of course, we have many accounts of family collaboration – of Adna building cabinets and of Margaret organizing and sorting specimens – and we wouldn't want to exclude them. Yet, as late as the 1930s we see reports of the relocation of the "Adna A. Hecox collection" to its new home in Seabright. Being able to attribute things like the taking of a photograph or the collecting of specimens to Laura herself allows us to participate in broader movements to recognize the role of women in the history of science and to celebrate diverse connections with nature.
The surfacing of this photograph enriches our understanding of Laura Hecox's story, but anyone who has taken a closer look at the changing landscapes of the Monterey Bay knows that photographs have a lot to say about the story of the natural world around us. This is just as true in the 21st century as it was in the 19th, and you can see the evidence in our upcoming virtual exhibit 2020 Vision. For more on photographs as a tool for understanding of the world around us, and the interrelated worlds of photography and natural history, check out this month's Collections Close-Up event: Picturing Nature on the January 14th at 5:30 p.m..