June 1, 2023
A very special tooth in Santa Cruz County has captured the attention of the world. A widespread community campaign to recover a mastodon tooth that went missing after being recorded on a local beach culminated on May 30, 2023 when Jim Smith brought a special treasure to the Santa Cruz Museum of Natural History.
Here's How the Story Unfolded
As Memorial Day weekend ramped up in Santa Cruz County, a tourist with ties to the area spotted an unusual object on Rio Del Mar beach. Uncertain of what she was seeing, she photographed her unusual find and shared it on social media in the hopes that it would be identified. That's when Santa Cruz Museum of Natural History Paleontology Collections Advisor, Wayne Thompson, posted online to clarify the significance of the discovery.
"This is (a) … molar tooth of the Pacific Mastodon Mammut pacificus, and an extremely important find. Give me a call when you get a chance…" Thompson wrote in response to the post.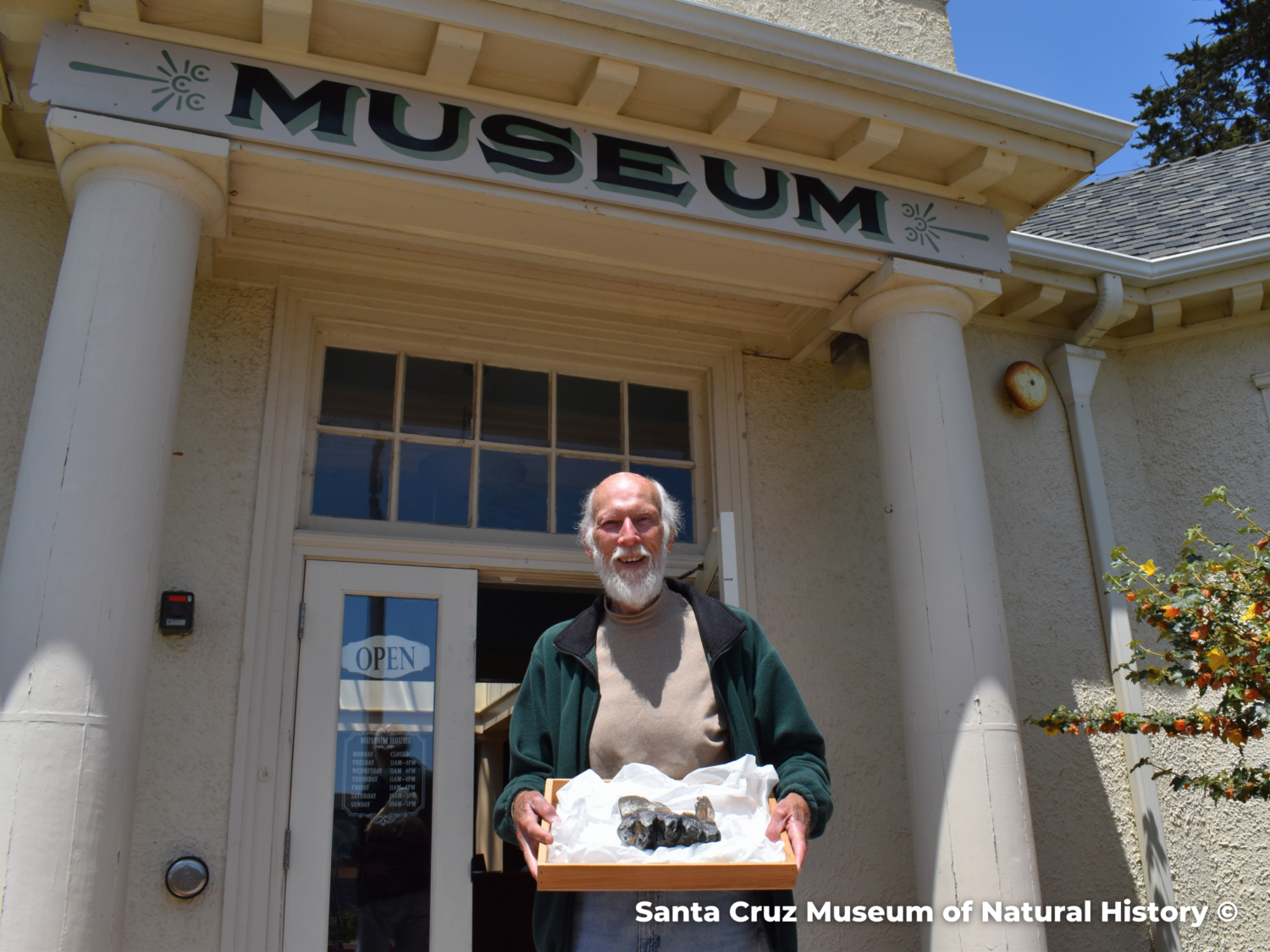 When Thompson arrived at the location where the tooth was originally discovered, it was gone. A public call to find the tooth went out across multiple platforms, with local and international news outlets joining the Museum's efforts to recover and protect the important specimen. On the morning of May 30, Jim Smith, a local man who had seen the news about the tooth, called the Museum.
"I was so excited to get that call," said Liz Broughton, Visitor Experience Manager at the Museum. "Jim told us that he had stumbled upon it during one of his regular jogs along the beach, but wasn't sure of what he had found until he saw a picture of the tooth on the news. He was so excited to hear it was a mastodon tooth and was eager to share it with the Museum."
Mastodons in Santa Cruz County
The Museum has a long history with local mastodons. In 1980, 16-year-old Jim Stanton found a mastodon skull in Aptos Creek, which Thompson excavated and spent years meticulously repairing. Visitors can explore this skull, the only other locally recorded specimen, at the Museum of Natural History where it is on permanent exhibit.
Thompson first came to the Museum in 1976 as a high school sophomore, eager to continue to explore the world of paleontology. A youth employment program launched by former President Jimmy Carter granted the option to work here at the Museum alongside Charles Prentice and Frank Perry, and Thompson jumped at the chance. He prepared fossils, guided guests through the galleries, and tended to our collections, among other duties.
After retiring as a middle school science teacher recently, Thompson rejoined the Museum as Paleontology Collections Advisor. In this new role, he helps catalog collections, shares his expertise with staff and the community, and is working on digitizing our paleontology collection.
With the discovery of this new tooth, he and the Museum's collections department have a slew of new tasks to look forward to as we work with State Parks to ensure the ongoing preservation, study, and display of this unique object.
More on Mastodons
The Pacific mastodon (Mammut pacificus) is one of many recognized mastodon species. M. pacificus is the newest species to be named. Once thought to be M. americanum, DNA analysis helped reveal that certain specimens actually belonged to a newly designated species. Mastodons generally roamed California from about 5 million to 10 thousand years ago, but were much more prevalent in the eastern areas of North America.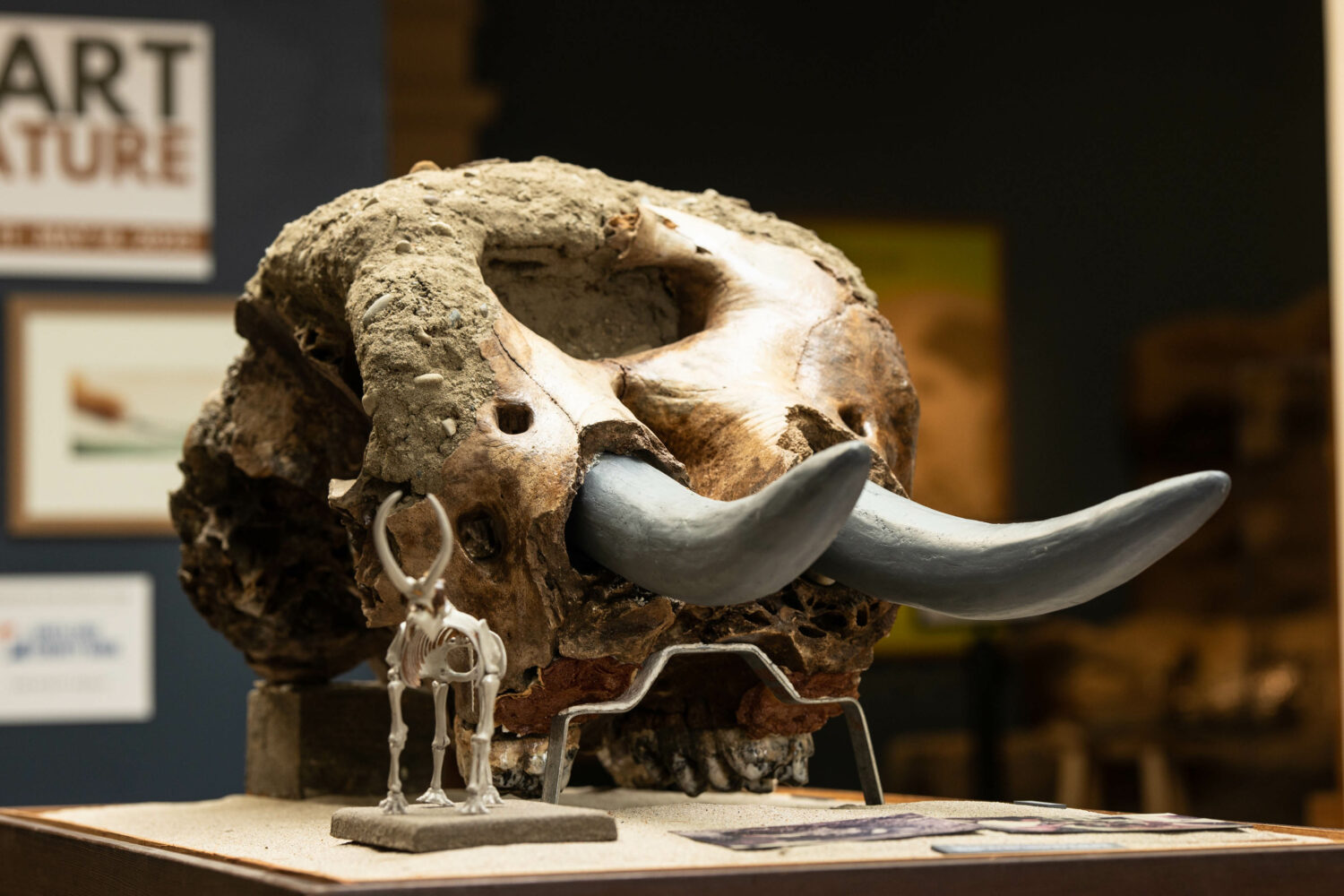 What's Next For the Tooth
The Rio Del Mar tooth has a lot of potential to reveal information about the life history of mastodons, as well as what led to their extinction.
The mastodon skull on exhibit at the Santa Cruz Museum of Natural History is that of a juvenile, and the discovery of this adult tooth on Rio Del Mar beach may provide the first evidence that a herd roamed Santa Cruz County during the last Ice Age.
We're also interested in having the tooth analyzed with carbon dating and stable isotope analysis so that we may determine how long ago the individual lived, what it ate, and more. This information can help us know more about the implications of climate change and human impacts on the extinction of this species, as well as how they lived in the area.
The Museum looks forward to collaborating with State Parks on the ongoing care, study, and exhibition of this special specimen.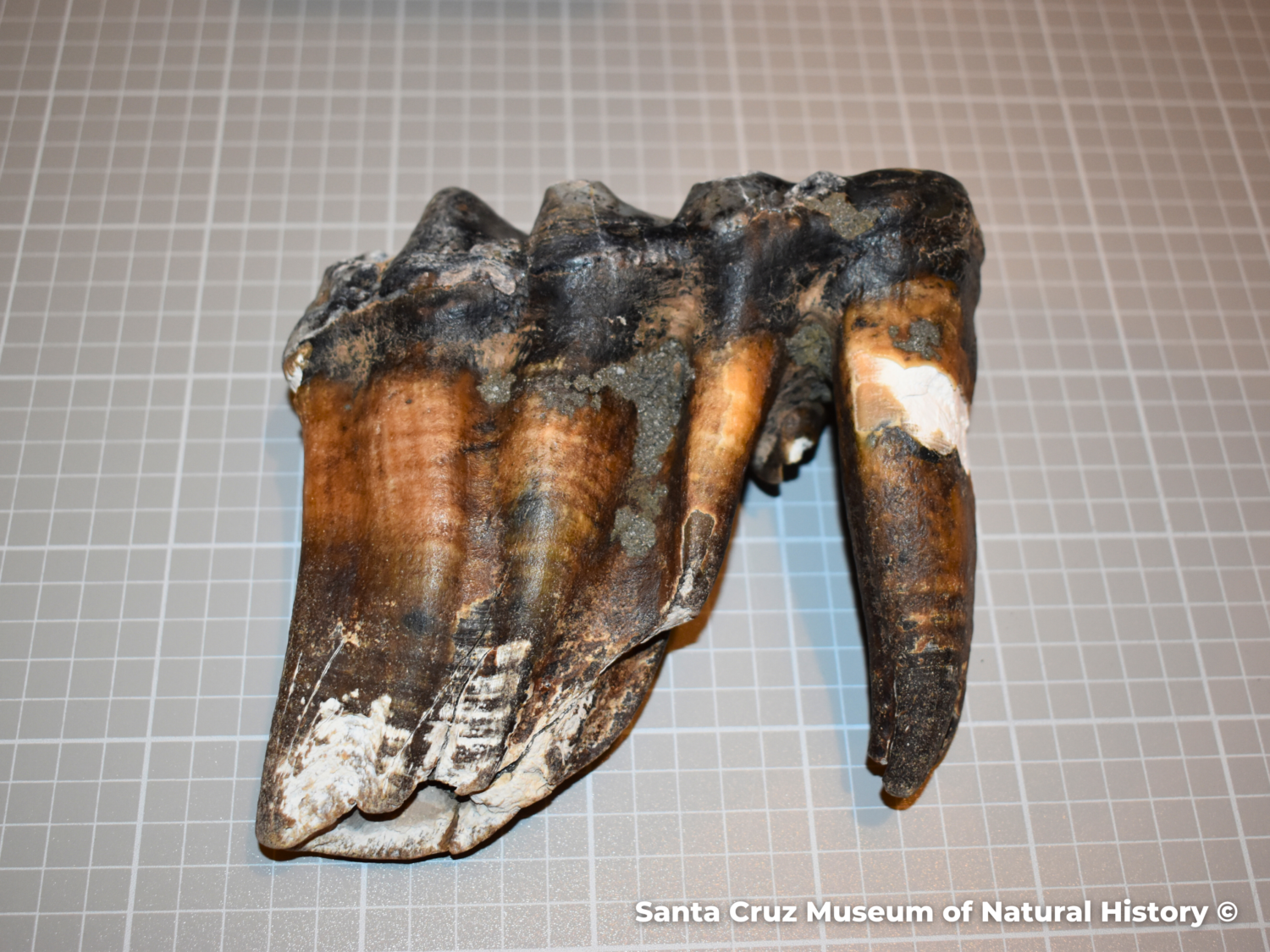 Photo 1: Museum staff Liz Broughton holding the Rio Del Mar tooth alongside the mastodon skull that is in the Museum's collections
Photo 2: Jim Smith delivering the tooth
Photo 3: The mastodon skull found in 1980, on exhibit at the Museum
Photo 4: Rio Del Mar mastodon tooth